Name: Rock Climbing around Squamish
Starts: Sun Jun 05, 2016
Meetup: St. Davids Church, 1525 Taylor Way, 8:30 am
Return: Sun Jun 05, 2016
Registration opens: Tue May 31, 2016
Event category: Rock Climbing
Difficulty grade: B5 [?]
For members only: No
Screening used: Yes
Max participants: 8
Organizer: Carine Vindeirinho

Profile info:
1) Do you have a preference, or on the contrary a strong dislike, for any of the suggested destinations?
2) Do you lead trad, sport or both? What level?
3) Will you bring a rope, anchor material and lead gear?
4) If you plan to drive, how many additional people can you take and where will you be driving from/through?
If you require a ride, where do you live? This will help with organizing carpooling.
You must login in order to sign up online for one of the BCMC Trips. If you don't have a BCMC membership account then please obtain one.  If you'd prefer to learn more before joining then please join as a 30-day Guest member.   Some trips are BCMC members only.
Murrin Park, the Apron, the Malamute, Smoke Bluffs or Cheakamus Canyon: whatever the group chooses, as long as we take advantage of the great sun out there!! I can sport lead to 5.10a and can second on trad. We'll choose routes according to the skills of participants so please make sure to answer the 'Questions for Participants'.
We'll meet at St. David's Church, 1525 Taylor Way to depart at 8:30 am and plan on coming back to Vancouver around 7:00 pm at the latest.
 All participants must bring their personal climbing gear, including: harness, belay device, locking biner, climbing shoes, and helmet. Also highly recommended is a prussic for rappelling, a PAS (personal anchor system) to secure yourself, sunscreen, water and energy snacks.
Ropes & anchor material for this event are provided by participants and not by the club. If you have a full-strength climbing rope and anchor material, please do bring it.
While the more experienced climbers are usually happy to share their knowledge, this is not a climbing course. Every participant should be able to lead-belay and is expected to have top-roping experience (indoors and/or outdoors).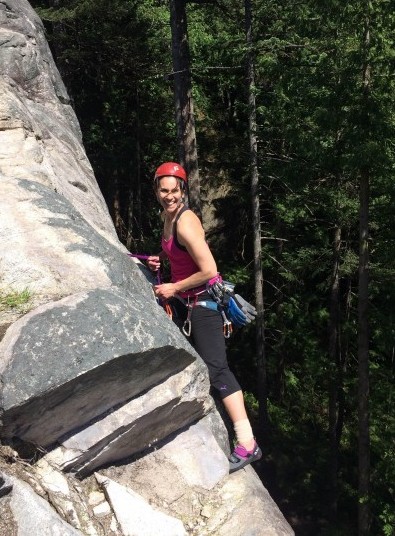 Emergency Contact Info: Please make sure you have added an Emergency Contact to your account profile. On the top right corner of the BCMC website, click on My Account then Edit Your Contact Info on the left hand side, then Private Info, and add the Name and Phone Number of your Emergency Contact. This information is stored privately and only made available to the organizers of trips you choose to attend. 
Potential Medical Issues: Please email/phone the organizer to share any important information, such as allergies or medication that could be vital information to First Aid responders. Anything you choose to share with the organizer will remain private. 
Poor Weather Cancellation: The weather looks gorgeous (sunny, high 19) but for reference the weather forecast for Squamish is at weather.gc.ca/city/pages/bc-50_metric_e.html. The trip is maintained as long as the forecast is 40% PoP or less.
Other trips or events organized by this BCMC member

Let's organize carpooling to our Arc'teryx Climbing Academy course and discuss what we learned on our return.

A day of sport climbing in the Cheakamus Canyon recreation area North of Squamish (+ maybe Star Chek)

Join other club members at Cliffhanger Vancouver for a couple of hours of climbing