Name: New Watersprite Lake Trail Construction - Round 5
Starts: Sat Jun 25, 2016
Meetup: St. Davids at 7:00am (As Usual)
Return: Sat Jun 25, 2016
Registration opens: Tue Jun 21, 2016
Event category: Trail Clearing
Difficulty grade: A1 [?]
For members only: No
Screening used: Yes
Max participants: -
Organizer: Paul Kubik

Profile info:
Do you have a 4x4?
What trail building tools do you own?
Do you have safety gear?
You must login in order to sign up online for one of the BCMC Trips. If you don't have a BCMC membership account then please obtain one.  If you'd prefer to learn more before joining then please join as a 30-day Guest member.   Some trips are BCMC members only.
Construction of the New Watersprite Lake Trail continues with grubbing and scrubbing the Skookum Watersprite Spur!
Although last week's trail construction trip was cancelled, Paul Kubik, Steve Grant and David Scanlon were hard at work on the trail last weekend and grubbed and scrubbed the entire S1 Spur, and the Waterprite Skookum Spur still 200 meters past the waterfall.
Grubbing and scrubbing will continue from there (starting 200 meters past the red pin on the map below).
This trip will be the fifth in a series of trail clearing and construction trips dedicated to the New Watersprite Lake Trail, which will be used to access the club's new cabin.  
Come join us and help make this worthy project come to life and get scrubbing!
Section 57 authorization has been granted for this project.
I have provided two GPX files for this trip (download them using the links on the bottom left of the page).  The first are the driving directions to the trailhead from Squamish, and the second is the GPX file for the trail itself.  
Note from Chris Ludwig:
Thanks to Paul Kubik for organizing this one and my regrets for being unable to attend.  I'll be back...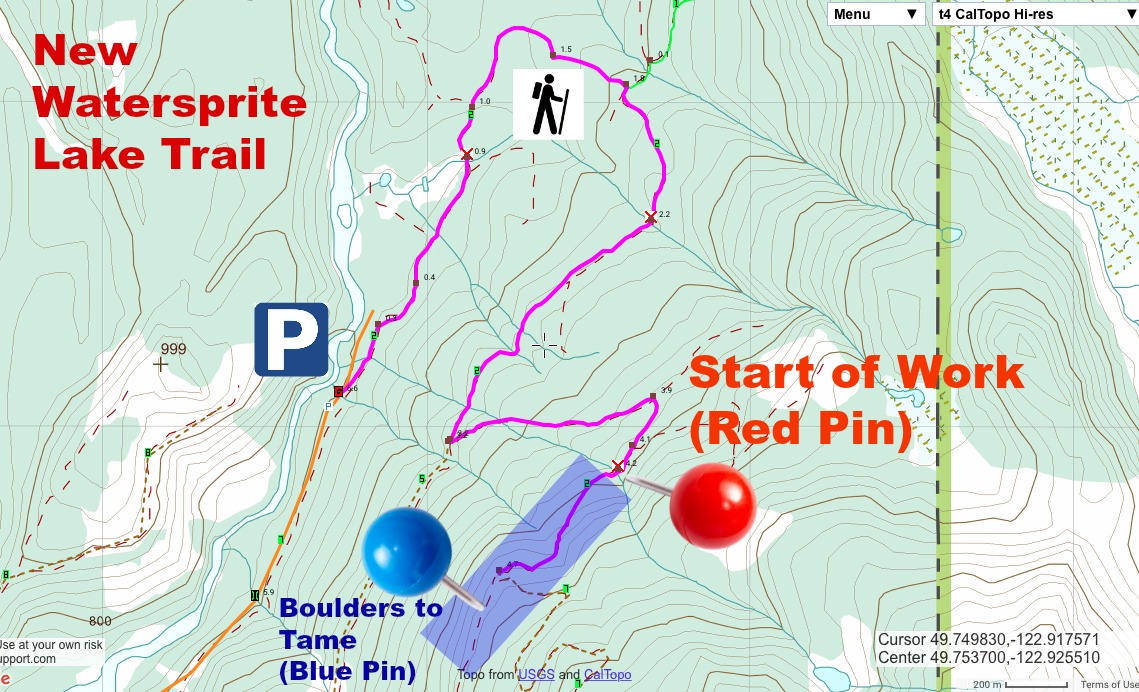 Other trips or events organized by this BCMC member

Ski ascent from near the end of Mamquam FSR

Ski touring off Lightning Lake chain in Manning Park

Ski touring off the Coq. Approach from Britton Creek R.A.