Name: New Watersprite Lake Trail Construction - Round 7
Starts: Sat Jul 30, 2016
Meetup: St. Davids at 7:00am (As Usual)
Return: Sat Jul 30, 2016
Registration opens: Tue Jul 26, 2016
Event category: Trail Clearing
Difficulty grade: B1 [?]
For members only: No
Screening used: Yes
Max participants: -
Organizer: Paul Kubik

Profile info:
Do you have a 4x4?
What trail building tools do you own?
Do you have safety gear?
If working with the pry bars or moving large rocks it is strongly recommended that steel toed boots be used. If you don't have steel toed boots there is other work that can be performed.
You must login in order to sign up online for one of the BCMC Trips. If you don't have a BCMC membership account then please obtain one.  If you'd prefer to learn more before joining then please join as a 30-day Guest member.   Some trips are BCMC members only.
The Roads are at last clear and 7.2KM of trail have been built.   It is now time to connect the end of the road to Watersprite Lake.
Construction of the New Watersprite Lake Trail continues with an assault on the final boulder field with rock bars) separating the freedom of the old growth forest to end of the road.
This trip will be the seventh in a series of trail clearing and construction trips dedicated to the New Watersprite Lake Trail, which will be used to access the club's new cabin.  
Come join us and help make this worthy project come to life and move and pound some rocks!
Section 57 authorization has been granted for this project.
I have provided two GPX files for this trip (download them using the links on the bottom left of the page).  The first are the driving directions to the trailhead from Squamish, and the second is the GPX file for the trail itself.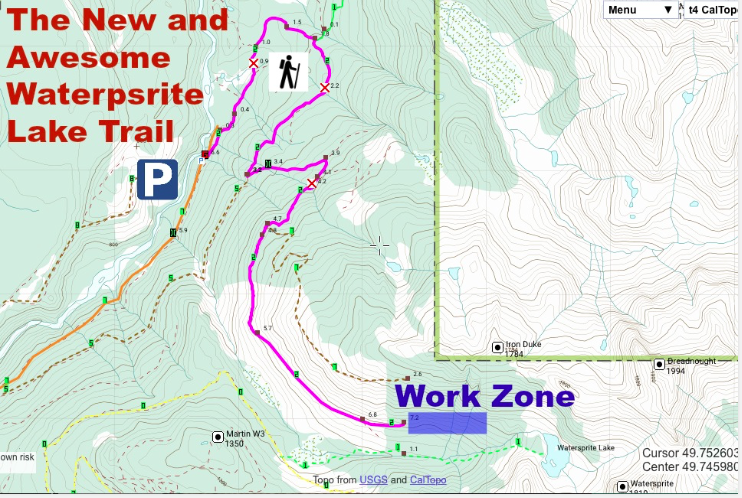 Note:  As we now are working in the upper reaches on the new trail, plan on the possibility of a later return.  
The Rockslide of Doom to be Subjugated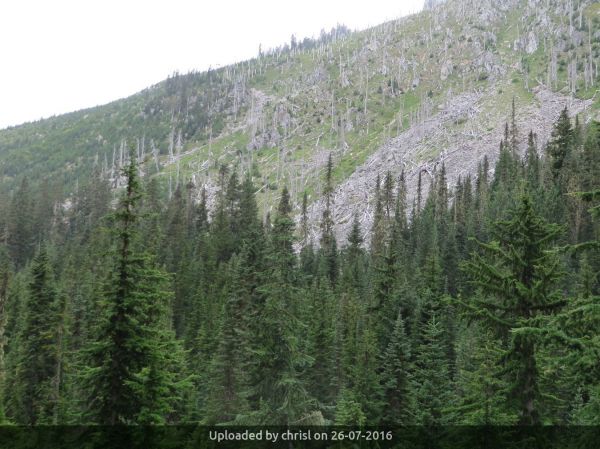 Other trips or events organized by this BCMC member

Ski ascent from near the end of Mamquam FSR

Ski touring off Lightning Lake chain in Manning Park

Ski touring off the Coq. Approach from Britton Creek R.A.