Name: Volunteers for Spearhead Huts Fundraiser Event
Starts: Tue Nov 22, 2016
Meetup: The Pipe Shop at Lonsdale Quay in North Vancouver
Return: Tue Nov 22, 2016
Registration opens: Fri Oct 14, 2016
Event category: Volunteer Meeting
Difficulty grade: A0 [?]
For members only: No
Screening used: No
Max participants: -
Organizer: David Scanlon

Profile info:
The BCMC thanks you for volunteering at the event :-)
If you have a preference, how would you like to help?
Alternatively, are there tasks you'd prefer to avoid?
You must login in order to sign up online for one of the BCMC Trips. If you don't have a BCMC membership account then please obtain one.  If you'd prefer to learn more before joining then please join as a 30-day Guest member.   Some trips are BCMC members only.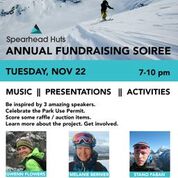 The Spearhead Huts Committee is looking for several outdoor club members to help their group prepare for and run their Nov 22nd fundraising event.  Even 'minor' help would be very much appreciated... please volunteer a couple of hours of your time, thank you!

Date:  evening of Tuesday Nov 22nd, 2016
Venue: THE PIPE SHOP at Lonsdale Quay in North Vancouver
We are hoping to see several BCMC members helping out.  If you have a skill set that fits into any in the list below, you are very much needed!  Please contact Sue Drinnan (contact info below) if you can help or have any ideas regarding the following list of needs.

Sue Drinnan
Spearhead Huts Fundraising Team
604 788 6967
Email: sue.drinnan@gmail.com
Speaker wrangler/stage manager
MC
Social Media / Extra bloggers (especially the 6 weeks beforehand)
Marketing/Imagery/Visuals (especially the 8 weeks beforehand)
Suggestions for Guests of honour (Elder Living legends? Politicians?) --- Jayson
Suggestions for Project Ambassadors, VIPs or other Guest Speakers--- Jayson
Entertainers/performers
Security
AV technician
Food Servers
50:50
Bar tenders
Set up, Tear Down Crew
Meet and greeters, reception
Keynote book sales table
Online donations table (laptops) , volunteer recruiting station
Follow up: writing thank you notes, following up on possible sponsorship or donation leads, etc
Admin Support (prep slides, pre and post event documentation, arranging meetings, rentals etc)
Fundraising outreach/community engagement
Other trips or events organized by this BCMC member

The annual VIMFF event that your BCMC supports

Bagging firewood Friday. storing it in the at Watersprite cabin Saturday

A BCMC Legends and Legacy banquet at Grouse Mtn October 27th.