Name: CABIN PROJECT NEEDS A FEW MORE VOLUNTEERS
Starts: Fri Oct 07, 2016
Meetup: Meeting times and places will be variable and ongoing.
Return: Fri Oct 07, 2016
Registration opens: Mon Aug 22, 2016
Event category: Other
Difficulty grade: A1 [?]
For members only: Yes
Screening used: No
Max participants: -
Organizer: David Scanlon

Profile info:
What day(s) do you think you can help? Please leave a message in the Trip Planning forum... or you can try phoning me at 604-230-2601 to discuss (but I'll probably be at the hut working). Thank you!
You must login in order to sign up online for one of the BCMC Trips. If you don't have a BCMC membership account then please obtain one.  If you'd prefer to learn more before joining then please join as a 30-day Guest member.   Some trips are BCMC members only.
The BCMC"s cabin committee has just completed getting the concrete foundation poured at Watersprite Lake this past weekend. NEXT PHASE. All materials are now ordered. They are to be delivered to the Black Tusk Helicopter maintenance yard in Squamish at 2021 Paco road; on September 7th. On September 8th volunteers will be needed tho distribute all of the material into loads to be trucked up to a launching area to be flown from there to the building site on the 9th. Then the fun of building the cabin will begin. How can I help? Can you operate a hammer, carry material to where it is needed, help at the maintenance yard in the packaging of loads, bring tools to where they are needed? We already have all needed tools on site with power so yours aren't needed. Volunteers can help distribute materials on site, just to be a gofer will be a help.  This will be ongoing starting September 7th until completion.
A couple of us will be at the maintenance yard on Wednesday Sept 7th to co-ordinate where to place the material. For Thursday the 8th, six people will be enough to get the sling loads ready. Keep in mind if we have to send up and leave a load overnight someone will have to stay overnight with it. Once the loads are ready volunteers can then hike up to the lake should they choose to do so. If you can only come in for the weekends you are very welcome to do so. If you can only come for Thursday you will be welcome. Anything at any time that you can do to help will be very much appreciated. With enough help the cabin could be built in about 2 weeks.

UPDATE: the building is progressing well but we still have a ways to go to complete the inside... please volunteer a day or more of your time to help finish our new BCMC hut.  Thank you! :-)

Hut as of Sept 25th.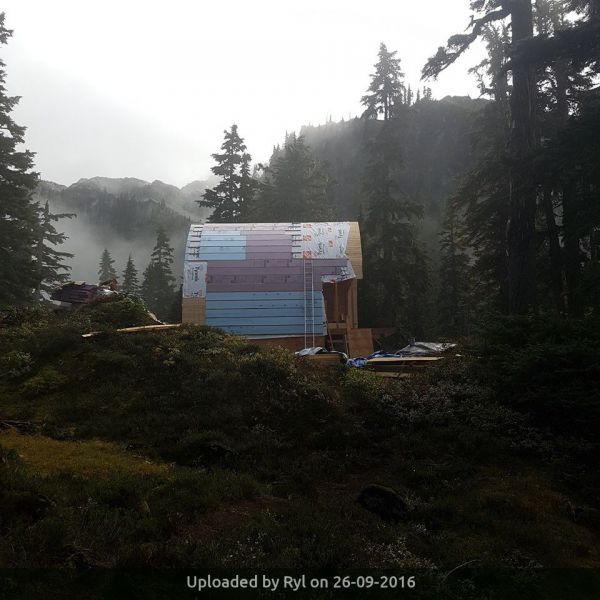 Other trips or events organized by this BCMC member

The annual VIMFF event that your BCMC supports

Bagging firewood Friday. storing it in the at Watersprite cabin Saturday

A BCMC Legends and Legacy banquet at Grouse Mtn October 27th.