Name: 2016 BC Mountaineer Journal (online sales)
Starts: Wed Feb 01, 2017
Meetup: n/a
Return: Wed Feb 01, 2017
Registration opens: Fri Sep 16, 2016
Event category: Other
Difficulty grade: A0 [?]
For members only: No
Screening used: Yes
Max participants: -
Organizer: Chris Ludwig

Profile info:
You must login in order to sign up online for one of the BCMC Trips. If you don't have a BCMC membership account then please obtain one.  If you'd prefer to learn more before joining then please join as a 30-day Guest member.   Some trips are BCMC members only.
The BC Mountaineer Journal, 2016 edition, is now available and contains over 100 pages of content with full colour images.  The club has ordered 80 copies from the printer, which will be sold to members in order of payments received.
**NOTICE: ONLY 5 COPIES LEFT as of January 23, 2017**
The club journal is produced every two years and contains accounts of recent climbs, camps, expeditions, photographs and other material. The Club solicits articles of interest written by members.  Purchase this piece of Mountaineering History while supplies last!
Payment can be made using the "Buy Now" button on the left-side column.
The purchase options are:

Printed Copy > (Pick up in person at a BCMC Social or from Chris Ludwig) - $15.00
Canadian address > printed copy delivered, plus digital copy emailed - $20.00 (includes shipping)
U.S.A. address > printed copy delivered, plus digital copy emailed - $25.00 (includes shipping)
European address > printed copy delivered, plus digital copy emailed - $30.00 (includes shipping)
If you wish to purchase a printed copy and have it shipped to a place not in Canada, U.S.A. or Europe then please contact Michael Feller *BEFORE* you purchase it.

UPDATE: please note that this list is for sales arranged through the website... many other copies have been and will be sold at various Volunteer Meetings and Club Social events.  The *total* number of printed copies is 80 and about half of them have been reserved or sold so far.  There are no plans for a second printing so please reserve your copy soon.  Thank you, Paul O (Oct 18th)

BC Mountaineer 2016 Cover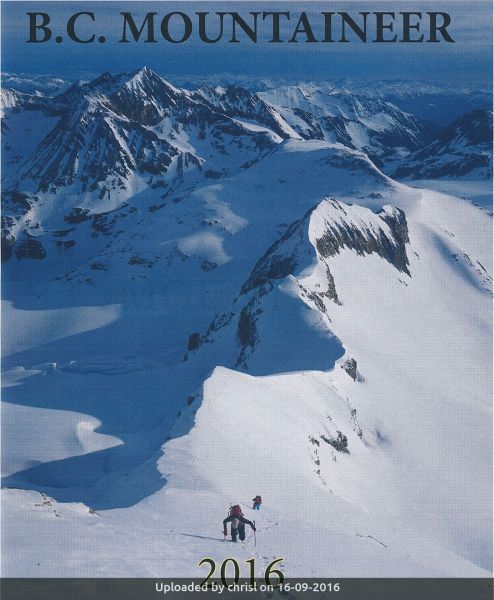 Other trips or events organized by this BCMC member

A free online Zoom workshop on Outdoor Leadership as well as in broader application

Monthly meeting of the Executive Team plus others helping with special projects.

BCMC AGM and Social Pacific Crest Trail 3.5 months on the trails