Name: BCMC Annual General Meeting
Starts: Tue Nov 08, 2016
Meetup: Anza Club
Return: Tue Nov 08, 2016
Registration opens: Sat Oct 08, 2016
Event category: Presentation
Difficulty grade: A1 [?]
For members only: Yes
Screening used: No
Max participants: -
Organizer: BCMC Executive

Profile info:
You must login in order to sign up online for one of the BCMC Trips. If you don't have a BCMC membership account then please obtain one.  If you'd prefer to learn more before joining then please join as a 30-day Guest member.   Some trips are BCMC members only.
NOTICE OF ANNUAL GENERAL MEETING to be held on November 8th 2016 at 7:30pm at the ANZA Club, 3 West 8th Avenue, Vancouver, BC. 
The AGM will include:
Financials:

 The 2015/16 Financial reports from the Executive volunteers will be submitted followed by a presentation of the 2015/16 BCMC Financial statement to be approved by the membership.

Executive Election:

 The names of club members running for Executive volunteer positions will be put forward and voted on as a group.  In the rare instance an election is called, voting ballots will be provided and cast.  
The current list of BCMC Members running for volunteer Executive Committee (a.k.a. Board of Directors) positions for the term of November 8th, 2016 to November 14th, 2017 are:
Positions Requiring a Dedicated Vote:
PRESIDENT:   Wilson Edgar
VICE-PRESIDENT:   Paul Olynek
SECRETARY:   Jeff Zenger
TREASURER:   VACANT   James Worth
Position not requiring a vote:
PAST-PRESIDENT:   David Scanlon
Positions Collectively Voted on:
CLIMBING CHAIR:   Bill Mauer
COURSES & CAMPS:   Marlaina Rhymer
NEWSLETTER EDITOR:   Steve Booth
JOURNAL EDITOR:  Brian Shannon
CABINS & TRAILS:   Paul Kubik
CONSERVATION:  Chris Ludwig
FMCBC REPRESENTATIVE:  Brian Wood
BCMC SOCIALS:   David Scanlon
MEMBERSHIPS:   Paul Olynek
WEB ADMINISTRATORS:   Paul Olynek, Chris Ludwig, Bill Mauer
Please note that the BCMC Constitution limits the number of club members who can serve on the Board of Directors (a.k.a. Executive Committee) to no more than 13.  We are still looking for an enthusiastic and knowledgeable volunteer to fill the Executive position of Treasurer.  To learn more about this position and what it involves, please contact the current BCMC Treasurer, Alena D, thank you.
We are also looking for as many volunteers as possible to help those on the Executive Committee with their various responsibilities... especially the simpler tasks.  So please contact any of them ASAP and offer some help... even an hour a month may help the club operate a bit smoother.  You may also contact the BCMC Executive (via group email) for any questions you might have. 
Below are some members who have offered to assist with some of the volunteer work:
MEMBERSHIPS:  Dan Giroday
BCMC SOCIALS:   Peer-Daniel Krause
CLIMBING CHAIR:  Radmila Bridges
JOURNAL EDITOR:  Michael Feller
FORUM MODERATOR:  Glenn Woodsworth
Please mark the evening of Tuesday Nov 8th on your calendar and plan to attend the 2016 BCMC AGM, thank you!
BCMC Logo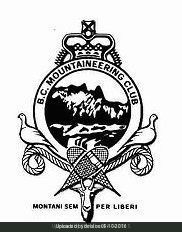 Other trips or events organized by this BCMC member
The Nov 12th BCMC Annual General Meeting includes discussion and voting on important club issues.

Monthly meeting of the Executive Team plus others helping with special projects. Members welcome to attend.

Monthly meeting of the Executive Team plus others helping with special projects. Members welcome to attend.