Name: Watersprite Lake Cabin (Nov. 11-13)
Starts: Fri Nov 11, 2016
Meetup: St. Davids at 7:00am
Return: Sun Nov 13, 2016
Registration opens: Sun Oct 30, 2016
Event category: Backpacking Trip
Difficulty grade: CLASS 1 [?]
For members only: Yes
Screening used: Yes
Max participants: 11
Organizer: Paul Olynek

Profile info:
Do you have a vehicle good for traveling on the FSR to the new trailhead?
Do you have any building experience (its not necessary but Dave would like to know)?
You must login in order to sign up online for one of the BCMC Trips. If you don't have a BCMC membership account then please obtain one.  If you'd prefer to learn more before joining then please join as a 30-day Guest member.   Some trips are BCMC members only.
PLEASE COME HELP COMPLETE THE NEW BCMC HUT. (See photo below)
Volunteers working on the new cabin have made incredible progress... finishing the outside and working on the inside.  For the long-weekend our goals will be to help complete the inside building tasks, help clean up the building material from the outside of the cabin, and possibly help with small improvements to the last 1/2 kilometre of the new access trail.  BTW, it's a beautiful 3-hour hike up to the lake using the new Watersprite Lake Trail. 
You do not need to bring any tools, equipment, or building supplies... they are already at the site.  All you need is your personal gear for hiking and camping... plus work-gloves.
We'll meet at the St. David's Church parking lot at 7:00am. Space for this trip is limited due to the size of the cabin.  Those who can make it, please come out and join other club volunteers for a fun long-weekend and be a part of a cool project.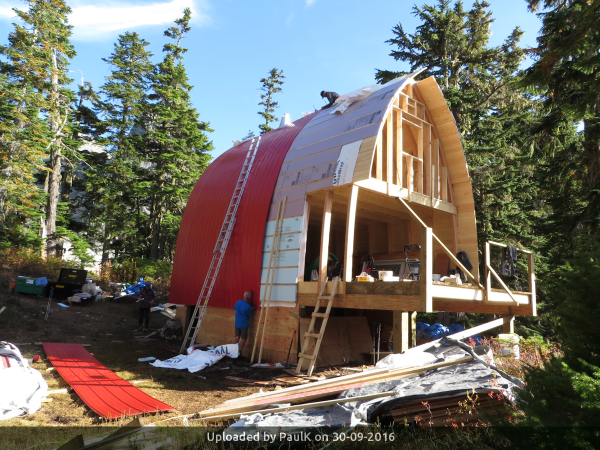 Other trips or events organized by this BCMC member

BCMC Policy and Best Practices Committee

A day of moderate [5.8-5.10b] single-pitch crack and slab climbing in the Squamish area.

A day of moderate [5.9-5.10b] single-pitch crack and slab climbing in the Squamish area.