Name: Introduction to Ice Climbing
Starts: Sat Nov 19, 2016
Meetup: TBD
Return: Sat Nov 19, 2016
Registration opens: Mon Nov 07, 2016
Event category: Instructional Program
Difficulty grade: C5 [?]
For members only: Yes
Screening used: Yes
Max participants: 7
Organizer: Jeremy Thom

Profile info:
What is your level of climbing experience?
Do you have experience crossing glaciers?
Have you hiked into the Mt Baker Seracs before?
Can you drive and take passengers?
You must login in order to sign up online for one of the BCMC Trips. If you don't have a BCMC membership account then please obtain one.  If you'd prefer to learn more before joining then please join as a 30-day Guest member.   Some trips are BCMC members only.
Overview: this is a 1-day course covering basic ice climbing safety and techniques.
Group Size: I want even numbers, with a minimum of 4, so either 4 or 6 will be confirmed to attend this course.
Prerequisites: those taking the course are expected to have:
1) successfully passed a climber "Top-Rope Belay Test" or have reasonable experience,
2) experience travelling on glaciers, while not mandatory, will be considered an asset,
3) good physical condition, i.e. hike 2 hrs with all your gear then climb top-rope routes.
Destination: we will to be climbing in the Seracs on Mt Baker, which is about a 2 hour drive from Vancouver (may include a toll-bridge crossing).  Our plan will be to meet early Saturday morning (location: TBD), then stop for a coffee and snack at the Tim Hortons (near the Pet Smart) just before the Sumas Border crossing.
Border Crossing: everyone will need to bring appropriate documentation to cross the Canada-USA border.  In addition, everyone will be expected to have appropriate travel insurance while in the USA.  If you don't have insurance, check out BCAA Travel Insurance and consider getting it for both Saturday and Sunday (about the same cost whether duration is 1 day or 5 days).
Expenses: the course fee is $30, payable to the BCMC.  The travel insurance rate for a few days is about $20.  A reasonable carpooling shared cost is $20-25 per passenger, payable to their driver.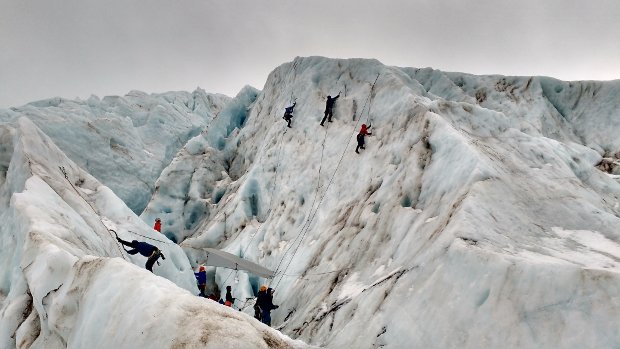 Clothing & gear:
1) If you do not own ice tools, then you could rent one of the two pairs the club has... otherwise you can borrow a pair from the course organizer.
2) You must have a proper climbing helmet, harness, belay device, suitable mountaineering boots and proper crampons.  If unsure, please check with the organizer to make sure that your crampons are suitable.  It's important you fit the crampons to your boots *before* attending the course.
3) For clothing, bring a combination of...
 a) fully waterproof outer shell for climbing in.
 b) very warm jacket for standing around and belaying in.
 c) one or more inner layers that dry quickly.
 d) at least three pairs of gloves, e.g. a well-fitted water-resistant pair for climbing, a warm waterproof pair for belaying, and a warm wool pair for the approach.
 e) warm hat and, if very cold, a face mask or neck warmer.
Should you have any questions or concerns, please don't hesitate to contact the organizer as soon as possible.
Registration process:
1) after you've register online your name will automatically be added to the "Request List" while the organizer reviews your registration information,
2) after the organizer approves your request, your name will be placed in the "Waiting List", which will give you access to the "Pay Now" (PayPal) button to pay online,
3) after payment has been confirmed by PayPal, your name will be moved to the "Confirmed List" and a confirmation email will be sent to you. 
Notes about the "Confirmed List":
 1) ordering will be based on when course fee payments were received.
 2) group total, including organizer, is limited by "Max participants:".
Payment options:
1) online PayPal / Credit Card payment through the BCMC website is preferred,
2) the alternate method is send a cheque payable to the B.C. Mountaineering Club and mailed to PO Box 2674, Vancouver, BC V6B 3W8.  Allow time for delivery since payment will not be considered "received" until the cheque has been deposited into the BCMC bank account.  Contact the organizer to request a space on the "Confirmed List" be held for you.
NOTE: cancellation fees may apply if a "Confirmed" participant withdraws from the course and requests a refund.  If the course is cancelled then everyone whose paid will receive a full refund.  For more information, please review the BCMC Course Refund Policy.
Other trips or events organized by this BCMC member

Two-day course on basic ice climbing safety and technique

Two-day course on basic ice climbing safety and technique

Two-day course on basic ice climbing safety and technique