Name: Demon Ridge, Watersprite Lake area
Starts: Thu Dec 01, 2016
Meetup: St Davids church parking lot at Highway 1 and Taylor Way in West Vancouver at 6:30 AM
Return: Thu Dec 01, 2016
Registration opens: Sun Nov 27, 2016
Event category: Backcountry Skiing
Difficulty grade: B3 [?]
For members only: No
Screening used: Yes
Max participants: 10
Organizer: Paul Kubik

Profile info:
Have you read and understood the information for participants?
Have you got a 4WD vehicle and how many passengers can you take?
If you do not have a transportation how can you help drivers to minimize the effort to provide you with a lift?
You must login in order to sign up online for one of the BCMC Trips. If you don't have a BCMC membership account then please obtain one.  If you'd prefer to learn more before joining then please join as a 30-day Guest member.   Some trips are BCMC members only.
Due to fluctuating snow conditions, there may be some walking along the logging road and new Watersprite Lake trail required. So be prepared to carry skis and boots on your backpack for several easy kilometers. The condition of the trail with fresh and shallow snow may be a concern. Be prepared for some alder across the trail. 
The Mamquam logging road may be snowed in low down in which case, we might not get anywhere near Demon Ridge.
The Watersprite Lake trail has seen significant work over the last year but there may be open cross-ditches and creeks to cross. You may have to remove skis from time to time to cross open creeks and ditches.
The route follows roads that have been cleared of alder for the most part. One hazard is that alder may be weighed down by snow and will criss-cross the path. That can make travel difficult and tedious. We may not reach our objective as a result.
The objective is the 1800 meter high ridge north of Watersprite Lake. We might ski back the same way we ascend or a different way, down the south gullies of Demon Ridge. This is potential avalanche terrain up to forty degrees for short pitches. That means skiers should be equipped for rescue and know how to use a transceiver and locate buried victims. There may be tree skiing required in which case skiers should be able to ski without traversing and kick turning. There may be tight gullies where it is an advantage to be able to make tight turns or even jump turns.
I may not know the abilities of all participants and as a result, inexperienced people may be on the trip. Equipment may fail. Avalanche conditions may be considerable or extreme. These factors are out of my control. It may affect whether we reach the objective.
We may make a side trip up to the cabin so the entire day could see travel in excess of 20 km and 1000 meters elevation gain if trail breaking is not a problem. But that is highly speculative at this point. The primary goal is to stay safe, have fun and explore the possibilities.
If the day proves long, we may come out late in the day. Bring a headlamp although I am not intending to be on the trail after dark.
The accuracy of Environment Canada weather forecasts is poor. The forecast dry weather for Thursday might be completely wrong, in which case, I may cancel the trip or postpone it hoping for better weather. I will use the planning forum for this trip to communicate any sudden changes in the trip plan. It is the responsibility of the confirmed trip participants to check the planning forum even as late as Wednesday evening or perhaps even Thursday morning by 5:30 AM to check for last minute cancellation.
Demon Ridge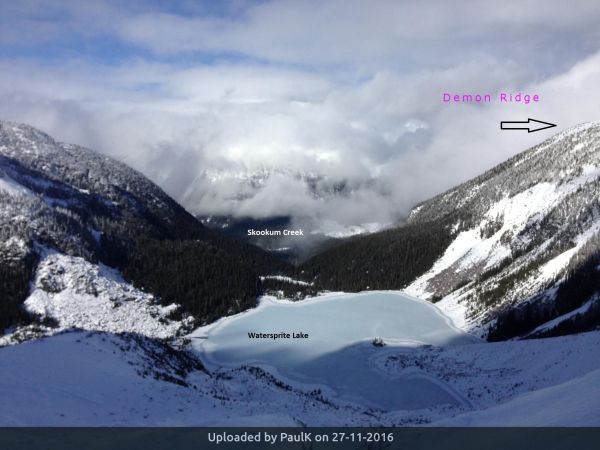 Other trips or events organized by this BCMC member

Ski ascent from near the end of Mamquam FSR

Ski touring off Lightning Lake chain in Manning Park

Ski touring off the Coq. Approach from Britton Creek R.A.