Name: Glacier Travel and Crevasse Rescue Course
Starts: Sat Feb 18, 2017
Meetup: TBA
Return: Sun Feb 19, 2017
Registration opens: Sat Dec 17, 2016
Event category: Instructional Program
Difficulty grade: B3 [?]
For members only: No
Screening used: No
Max participants: 16
Organizer: Marlaina Rhymer

Profile info:
You must login in order to sign up online for one of the BCMC Trips. If you don't have a BCMC membership account then please obtain one.  If you'd prefer to learn more before joining then please join as a 30-day Guest member.   Some trips are BCMC members only.
This course is for groups of 4 to 8* BCMC members with backcountry ski touring experience looking to obtain glacier travel and companion rescue skills.  Course will be held February 18 and 19, 2016.
*Note 1: if this course is not fully booked, i.e. a minimum of 4 paid participants then this course may be cancelled and refunds will be provided to those that paid.
UPDATE, JAN 4: We now have 8 confirmed and paid participants so this course is a GO! If we receive more sign-ups, we'll endeavour to get a second group going so feel free to sign up :)
UPDATE, JAN 30: We now have 16 confirmed and paid participants, so this course is FULL. Feel free to sign up for the Waiting List in case any spots open up, or to be notified if additional dates are posted. 
This course will be taught by an ACMG certified guide though the Mountain Skills Academy & Adventures (MSAA). MSAA is offering us a special price, just for BCMC members, of $230 (regular price for non-members: $300). Please read the SIGN UP PROCEDURES below carefully and be sure to follow all the steps.
Course Overview: This fully comprehensive crevasse rescue course for backcountry skiers and splitboarders features MSAA's very own efficient, effective, light, and fast crevasse rescue system. From experience garnered worldwide and testing many different systems, MSAA's system combines the best elements of safety, lightness, and ease of use.
An important point that differentiates MSAA's course from others is the unroped victim course component. THis includes rappelling into and ascending out of a crevasse to perform rescue of an unroped victim - an essential skill considering over 85% of glacier skiing is performed unroped.
In order to be self-sufficient, backcountry skiers and alpine climbers learn the three all-important components: rope ascension, crevasse rescue, and glacier travel. 
Equipment: 
Participants are expected to provide their own ski/splitboard setup, avalanche safety gear, food, clothing, and transportation. A crevasse rescue kit* is also required; participants can provide their own or rent directly from MSAA. Avalanche safety gear can also be rented if needed.
*Crevasse rescue kit contents:
- 1 autoblock device (Petzl Reverso or Black Diamond ATC Guide)
- 4 locking carabiners
- 1 x 120cm double length sling
- 2 x 5m prussics (7mm diameter)
- 1 x 1.5m prussic (7mm diameter)
- 1 ice screw (22cm is ideal)
The guide will provide group gear including ropes.
SIGN-UP PROCEDURES (PLEASE READ CAREFULLY!)
To sign up for this course, follow these steps:
(1) Sign up for this course in the BCMC website by clicking "Join this Trip" on the left hand side of this page. You will automatically be added to the Waiting List 
(2) Once on the Waiting List, you will have access to the payment link - see under "Course Online Payment" on the left hand side of the page. Follow the link and complete your payment directly with MSAA
(3) Once your payment is complete, you will receive a confirmation email from MSAA. Please forward your confirmation email to bcmc.courses@gmail.com, then you will be added to the Confirmed List
(4) Keep an eye on your inbox for future updates and details on logistics
Trip Organizer & Volunteer Instructor Incentive Program:
If you've volunteered your time as either:
(a) a Trip Organizer with 4 or more outdoor trips in the past 12 months, you may apply for a 25% rebate off the course fee, or
b) Course Instructor (primary volunteer organizer) in the past 12 months, you may apply for a 50% refund off the course fee.
Please email bcmc.courses@gmail.com with your request, along with a list of recent trips and/or course(s) you have been the primary organizer for.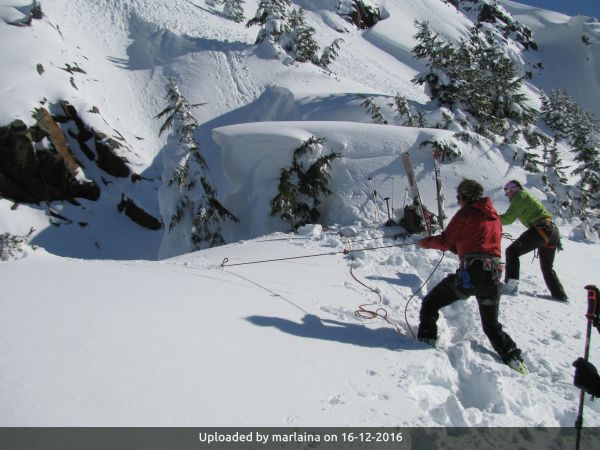 Other trips or events organized by this BCMC member

Learn critical glacier travel safety skills essential for summer mountaineering

Will you know what to do if things go wrong? Learn to be self sufficient on the rock

Learn the basics of snow and ice climbing in the mountains