Name: Rockies Ice
Starts: Fri Mar 03, 2017
Meetup: Meeting Details in Planning Forum
Return: Wed Mar 08, 2017
Registration opens: Fri Feb 03, 2017
Event category: Ice Climbing
Difficulty grade: A5 [?]
For members only: Yes
Screening used: Yes
Max participants: 6
Organizer: Cliff Eschner

Profile info:
If we have not climbed with you recently:
What is your ice climbing and leading experience?
What is your experience with alpine climbing, multi-pitch and building anchors?
You must login in order to sign up online for one of the BCMC Trips. If you don't have a BCMC membership account then please obtain one.  If you'd prefer to learn more before joining then please join as a 30-day Guest member.   Some trips are BCMC members only.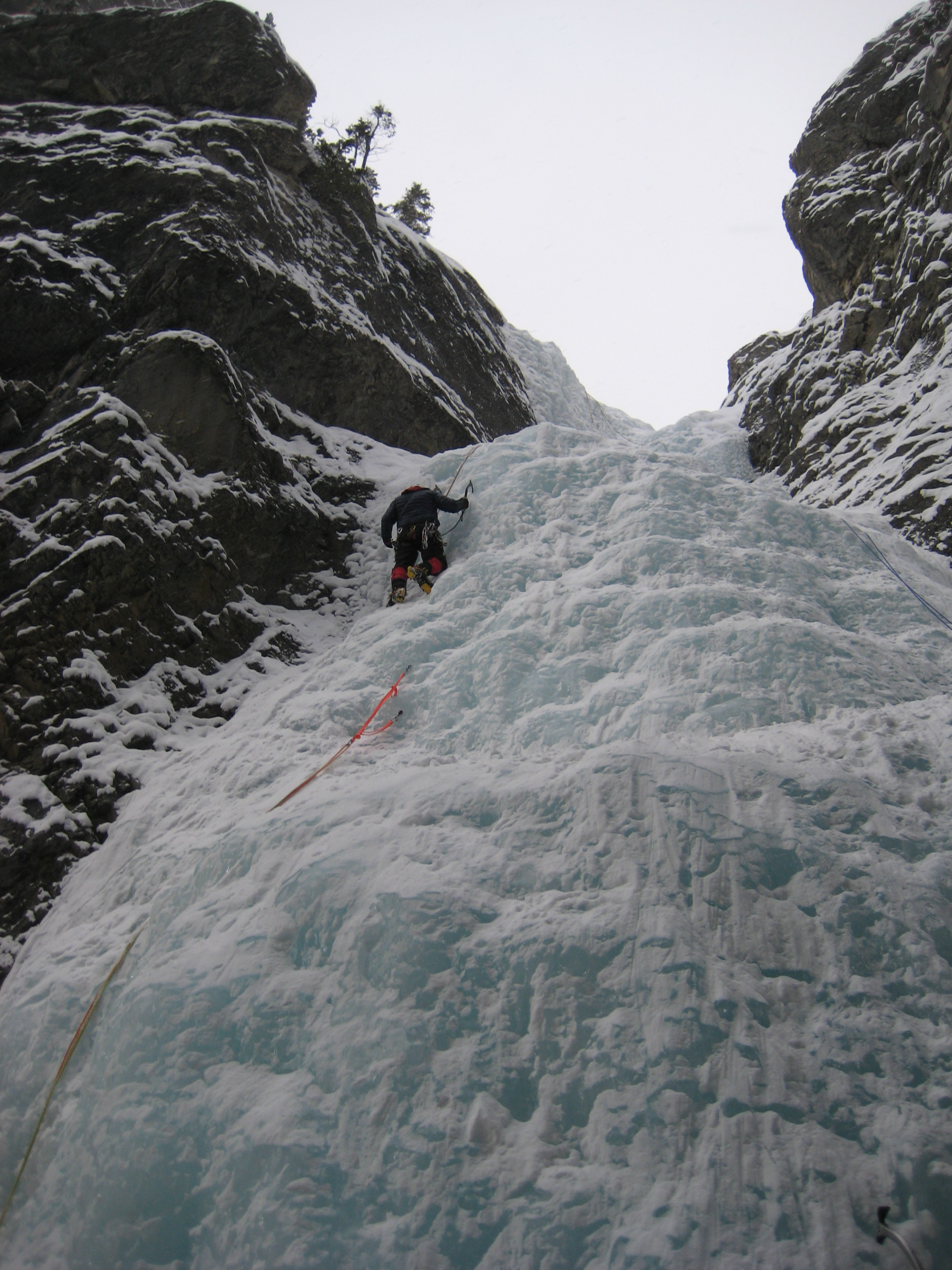 Annual Ice Climbing Pilgrimage to the Rockies near Canmore, AB.

You must have ice climbing experience and safe belay practices.  

Preference given to strong, conservative lead climbers.

Some of the climbing areas are remote and require alpine experience, so assess your skills and experience carefully.
The group will split for the day when we go to small climbing areas.

Locations dependent on ice conditions.
Be prepared! Bring your own ten essentials:

https://www.mountaineersbooks.org/Assets/ClientPages/zz_TenEssentials.aspx

Gear required:
Headlamp!

Helmet, Harness and Belay Device.
Goggles or protective glasses.
Rigid boots and steel crampons.
Technical Ice Tools.
Recommended: Waterproof jacket and pants, gaiters, extra pairs of climbing gloves. Extra warm belay jacket. Belay gloves.
Extra Gear:
We will need enough ropes, ice screws, and climbing gear for the group.
Organizers will bring their own 10 Essentials including GPS, Personal Locator Beacon; Camera; First aid kit.
Organizer will use the Planning Forum for additional information
Contact organizer by telephone for last minute questions/changes.
Recommended carpooling cost:  we will share transportation costs.
Accommodation:  we will share accommodation costs.
Emergency Info:  please make sure your Emergency Contact info has been added to your web-account profile.  You can do this by logging into the bcmc.ca website, click on: My Account (top of page)... then click on Edit Emergency Contact (top-left column).  Please re-enter your password to complete the process.  Your emergency contact info is stored *privately* and only made available to those organizing trips *you* choose to attend.
Medical Info:  any info that should be shared with the organizer(s), please send an email and/or phone ASAP.  For example, if you are very allergic to bee/wasp bites, or you are taking medication that could be vital information to First Aid Responders.  Anything you choose to share will remain private.
Cancellation:  We'll check the weather forecast for where we're going the evening before we meet.  If the weather forecast does NOT appear to be adequate for a safe outing then the trip will be cancelled and everyone will be notified by email.
Other trips or events organized by this BCMC member

Ski Tour to Summit Mt Price!

Ski Tour to Summit Mt Rohr!

Ski Tour to Cloudburst Mountain