Name: Paul Ridge
Starts: Sun Jan 29, 2017
Meetup: St Davids church parking lot at Highway 1 and Taylor Way in West Vancouver at 6:00 AM
Return: Sun Jan 29, 2017
Registration opens: Sun Jan 22, 2017
Event category: Backcountry Skiing
Difficulty grade: B2 [?]
For members only: Yes
Screening used: Yes
Max participants: 10
Organizer: Slawomir Skoczylas

Profile info:
- Do you have AST-1 ?
- Do you have your own gear or are you renting ?
- Do you ski or splitboard ?
- Can you drive and how many passengers can you take ?
You must login in order to sign up online for one of the BCMC Trips. If you don't have a BCMC membership account then please obtain one.  If you'd prefer to learn more before joining then please join as a 30-day Guest member.   Some trips are BCMC members only.
Intended to be a casual day of skiing on Paul Ridge. If you are a bit newish at skiing, but can snowplow down a potentially icy road, this is the trip for you! We can tour around the ridge, find some slopes to get some turns, perhaps do a little transceiver practice depending on the mood of the group. AST-1 is encouraged.

Items to bring:
- Transceiver, probe, shovel
- Ski poles
- Backcountry Skis or Splitboard
- Skins for Skis or Splitboard
- Lunch, snacks and water
- Warm clothes
- Headlap
Emergency contact info: if you haven't added it yet, please log into the club website and click on: My Account > Edit Profile Information > Private Info and add it (note: you'll need to re-enter your password).  Your emergency contact info will be stored *privately* and made available to those organizing trips *you* choose to attend.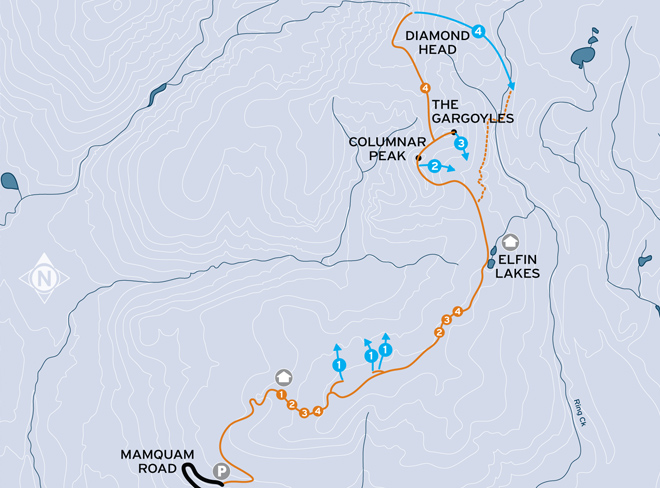 Other trips or events organized by this BCMC member

One week of Alpine Rock Climbing easier routes (5.9-5.4) in the Bugaboo Provincial Park

Indoor climbing at Vancouver Cliffhanger.

Easy snowshoeing to First Peak on Mount Seymour, maybe Second Peak if snow conditions allow.