| | | |
| --- | --- | --- |
| | | |
| | Trip is cancelled | |
| | | |
Name: BCMC Summer Camp 2017 *UPDATED*
Starts: Sat Aug 05, 2017
Meetup: Vancouver
Return: Sun Aug 13, 2017
Registration opens: Mon May 01, 2017
Event category: Mountaineering
Difficulty grade: A1 TO C5 [?]
For members only: Yes
Screening used: Yes
Max participants: -
Organizer: Peer-Daniel Krause
Profile info:
1. Can you drive? If so, how many people can fit into your car (incl gear and yourself) (note: you will have to self-organize vehicles.
2. Will you bring a rope? Describe. Half-rope? Length and diameter? Age/condition? Weight?
3. Do you have first aid training or other relevant certifications?
4. Will you bring a GPS? Describe (ie: Phone, GPS..)
5. Will you bring a Personal Locator Beacon? Describe (brand)
6. Have you updated your emergency contact information on the website? If not, please do so.
7. When are you planning on arriving - with who? When will you depart - with who?
8. Are you aware that there will be costs associated with the camp - depending on length/guide(+Permit)? Costs can be e-transfered or paid in cash.
9. If yes, what skills would you like to learn - or which objectives would you like to tackle with a small team?
10. Anything else you would like to share with us?
You must login in order to sign up online for one of the BCMC Trips. If you don't have a BCMC membership account then please obtain one.  If you'd prefer to learn more before joining then please join as a 30-day Guest member.   Some trips are BCMC members only.
Since 1910, the club has held summer camps for BCMC to get together in a remote mountain location, set up base camp, and spend a week or two swimming, hiking, scrambling, climbing, and mountaineering in the surrounding peaks. These camps are a great platform for not only the ultimate summer adventure getaway, but for meeting other members, mentorship opportunities, and even some first ascents! Historically, some camps included cooks at base camp and guides, while others were more casual and self-supported.
July 26: We updated the details to make everything a bit more flexible. We will not hire a guide - come as many days as you like. Please see below.
To confirm your spot, please follow these steps:
(1) Once on the Waiting List, please read the description. By July 30, please answer the "Questions for participants". Send an email to krause.peerdaniel@gmail.com acknowledging the safety and payment details and asking any questions you may have. If you would like to use a guide for any practice or objective we will figure out the costs.
(2) Once everything is clear, please pay the fees as described. You will be added to the Confirmed List.
Here the camp details:
1. We will be allowing a maximum of 40 participants for the camp. You do not have to come the full duration of the camp, but you need to let us know when you will be coming. You need your own permit.
2. Location and Access: The BCMC Summer Camp 2017 will be held at Gentian Pass in Garibaldi Park. We will access the site via Helm Creek: Helm Campground - past (or over with rope) Helm Glacier - into the colour east of Gentian Peak; Garibaldi Lake access possible, but not preferred (less elevation gain). Total hike in/out ~5hrs.
If you will hike in individually/small group please let us know via the Questions for Participants/email  (i.e. cause you only stay shorter)
Location:  https://goo.gl/maps/4H8YV4xvCZB2 (updated: exact camp location) )
Image:  https://docs.google.com/uc?export=download&id=0B8UbPdNx_CUFdTRwMVZQTDNvREE)
3. Objectives: Be stoked! There are myriads of options in the area:Alpine hiking with/without trails, Alpine rock, Glacier, Scrambles, 2-day objectives --- everything is possible. While some workshops and guided activities will take place you are encouraged to organize your objectives/trips individually. Please use the forum to organize yourself – and add toe spreadsheet of activities (see below). Also Check "Alpine Select".
4. Cost: The cost of $50 per participant pays for satellite phone, emergency and communal supplies (see below). Camp Permits have to be paid individually (see below). We are able to offer the services of a guide with enough interest. Extra costs are applicable (see below).
Materials: The materials budget is pretty low given the walk-in location. It covers items such as: communal area (tarps and poles), dish-washing area, sanitation (a spate, unless communally sourced), spare human waste and garbage disposal and storage mechanisms, first aid kit – and other small items.
The basic price is set at the assumption that a min of 15 people will participate in the camp. If you stay shorter than more than 5 days you can pay less. Just send us an email. If more people participate the costs could go down.
Guide: We will not hire a guide. 
5.   Logistics/materials:
Your gear: All gear has to be carried to the site. Helicopters cannot access the park. All participants have to bring their own food, climbing gear and be generally self-sufficient in all aspects. This also includes fuel, filtration, tents, avi gear if needed, and food storage and bear protection (see below). Please use the forum to organize any missing gear you may need. Our questions are intended to better understand whether some gear may be completely missing.
Food and storage: There are NO (real) TREES in the area. Everything will have to be sealed bear proof. Cooking and dish-washing has to take place in a separate area of the camp (will be set up).
Pack-it in / pack it out / Human waste:

A latrine will be built by the logistics team, but all participants will also have to bring human waste bags for any alpine trips/bivys.

Collective materials

: We will set up a communal area and a kitchen/cooking area and a washroom. A small porter group carried in some collective materials (tarps, buckets, poles). Some materials will have to be brought in AND out by the group collectively.

Every member should be ready to

carry an additional ~1-2kg collective gear on ascend day

.

Whatever you bring in will be your responsibility to bring out – incl. collective gear (i.e. if someone plans on leaving earlier or coming later, please make arrangements with others).
We need

some materials from participants

. Please check the following spreadsheet and enter your name if you can provide the equipment (you don't have to carry it all :-)
6.   Permits: Every participant has to individually purchase their daily backcountry permits from BC Parks for the duration of the camp. Backcountry Camping is only permitted at our camp location as we have obtained a letter of permission from BC Parks.
The best way to access backcountry camping permit fees is from 

the Garibaldi Park webpage at

http://www.env.gov.bc.ca/bcparks/explore/parkpgs/garibaldi/#Reservations

, then

Click the button "make a reservation now" (this will take you to the discover camping garibaldi park payment website) 

within the Discover Camping website

Reservation type is "Backcountry Garibaldi"

Select date of arrival

S

elect garibaldi as park

Select party size, and tent pads needed (for yourself/your tent)
Select site as Wedgemount campground

Click reserve and continue to payment

If you are experiencing difficulties please call Discover Camping at 1-519-826-6850 (a $5 surcharge will apply for this call service).
Note that if you are accessing the DC website via a mobile device you need to select "full site" initially.  
BCMC and BC Parks will have to see your receipts as proof of payment.
7.   Participant-led workshops: If you have a skill you can share, please get in touch with Catherine Godin (CathGogo).
Anything is welcome  (1-day mountaineering skills workshop, slacklining, neat rope and knot skills …) Don't be shy! Feel free to sign yourself into any time slot in the following spreadsheet with your activities – or join an activity that is planned – but keep in mind that things may or may not pan out as planned.
 We are excited to go Alpine Camping with you :-)
Camp Location - Gentian Pass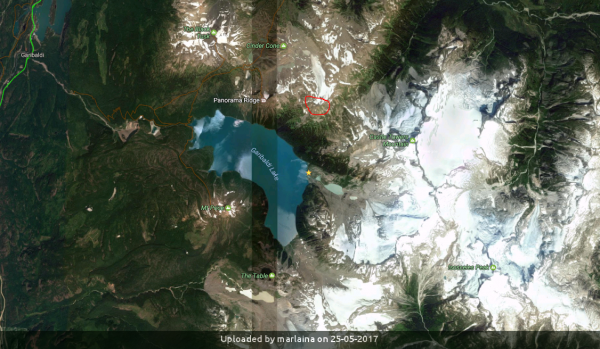 Other trips or events organized by this BCMC member

Learn crevasse rescue for ski touring/splitboarding

AST2 advanced avalanche skills course, Jan 26-27 and Feb 2-3

AST2 advanced avalanche skills course, Jan 26-27 and Feb 2-3