| | | |
| --- | --- | --- |
| | | |
| | Trip is cancelled | |
| | | |
Name: North creek-Pebble creek ski camp in cabins 7-8 days
Starts: Sat Mar 31, 2018
Meetup: at 8am in MacDonald restaurant of Pemberton
Return: Sat Apr 07, 2018
Registration opens: Thu Mar 01, 2018
Event category: Backcountry Skiing
Difficulty grade: C3 [?]
For members only: No
Screening used: Yes
Max participants: 8
Organizer: Andrei Smertin

Profile info:
1) Please shortly describe your backcountry skiing experience.
2) What backcountry ski trips did you make in 2017/2018 winter season?
3) Could you drive a car and how many persons with ski gear can you take?
You must login in order to sign up online for one of the BCMC Trips. If you don't have a BCMC membership account then please obtain one.  If you'd prefer to learn more before joining then please join as a 30-day Guest member.   Some trips are BCMC members only.
General plan in days is 1) ski in to North creek cabin and leave 1 day of supply there for return ski out day; 2) ski in to Pebble creek cabin (~12 km, +2900/-1900 feet, 8-9 hours) see for details https://bcmc.ca/m/events/view/1482253690 ; 3-5) exploring terrain around cabin 6) ski back to North creek cabin 7) ski out back to the Lillooet river road ~5 hours. One day is reserved for rest/bad weather.
Exact schedule will depend on weather, snow and avalanche conditions with conservative consideration of safety. In case of dangerous conditions we could ski the following: gentle Boomerang and Pebble glaciers; explore upper part of Harley river valley; explore approaches to Mt Thiassi; tree skiing; etc.
Note: participants should have experience with multi days self supported backcountry ski trips; there is a fee $15/night/person as contribution to Pebble cabin maintenance (cabin has a sauna).
See John Baldwin book "Exploring the coast Mountains on Skis" p 244-248. Access from the Lillooet river road km 17 (road conditions are described in https://www.for.gov.bc.ca/dsq/engineering/roadinformation.htm). Approach on skis to North creek will take ~8 hours to 1230m cabin location with 700 meters of elevation. It's ~9km (depends on snow level) on logging road and 5km at the bottom of the valley exposed to large avalanches. There are two creek crossings involved: bring light (rubber) shoes for first ford (was needed in march 2016) on way up and down, shoes can also be used inside the cabin. See approach route https://bcmc.ca/m/pedometer/view/North-Creek-cabin-ski-approach.  For non BCMC members there is a nightly fee for cabin usage - see https://bcmc.ca/club_huts.php
Gps tracks are created in Google Earth and attached as trip files. Please download them to your GPS (smartphone) device if you have one and take device with you. That will simplify our navigation in possible white out conditions.
All participants MUST have the following equipment.
Beacon, Probe & Shovel

AST-1 or higher training

AT/telemark ski or splitboard setup (including skins)

Headlamp + spare batteries

Appropriate clothing for being out in the elements all day

Gas stove to cook in cabin (you may cooperate with other participants); please no white gas stoves to be used inside cabins.

Enough food and water to remain on the move for most of the day (thermos for hot drink is recommended). We will take a couple of stoves/pots per group on long travel days to make hot drinks during lunch stop.

Sleeping bag, pad and earplugs

Blisters maintenance kit
Pebble creek cabin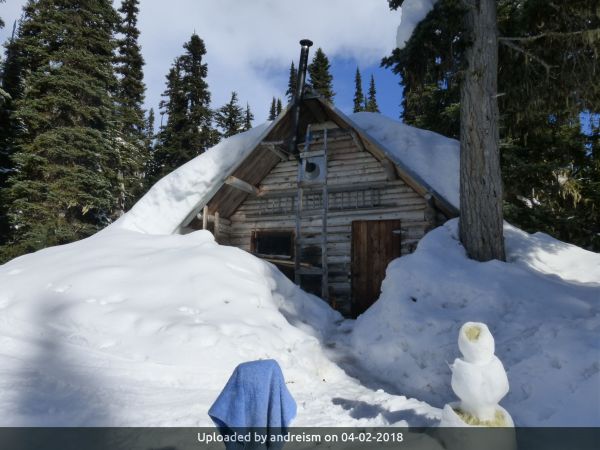 Other trips or events organized by this BCMC member

Pebble Peak and Sugus Mountain are targets, Gunsight Peek and Hemiouns Mt are alternatives

Sessel Mountain 2710M is a main target of the trip.

3 days of skiing to/from cabin