Name: Squamish Single-Pitch Rock Climbing
Starts: Sun Apr 16, 2017
Meetup: 10am St Davids Church, Hwy 1 & Taylor Way
Return: Sun Apr 16, 2017
Registration opens: Fri Apr 07, 2017
Event category: Rock Climbing
Difficulty grade: A5 [?]
For members only: No
Screening used: No
Max participants: 12
Organizer: Paul Olynek

Profile info:
What is your current climbing level?
Will you bring a rope and/or trad gear?
Can you drive to/from Squamish area?
You must login in order to sign up online for one of the BCMC Trips. If you don't have a BCMC membership account then please obtain one.  If you'd prefer to learn more before joining then please join as a 30-day Guest member.   Some trips are BCMC members only.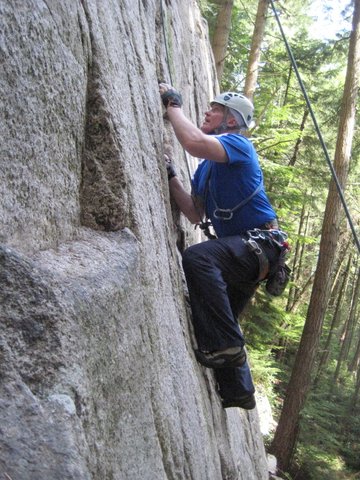 Expect a day of mostly crack Sport climbing on easier 5.7-5.10a routes in the Squamish area.  There should be opportunities for both leading and top-roping... depending on skill levels.  We'll most likely climb at the Commonwealth Woodstock Wall in Murrin Park... an area with lots of "easier" routes.

All participants must bring their personal climbing gear... including: harness, belay device, locking biner, climbing shoes, and helmet. Also highly recommended is a prussic for rappelling, a PAS (personal anchor system) for securing yourself, plenty of water and energy snacks.
Ropes & anchor material for this event are provided by participants and not by the club. If you have a full strength climbing rope and anchor material, please do bring it.
While the more experienced climbers are usually happy to share their knowledge, this is not a climbing course.
Meet at 10:00 am at St. David's Church parking lot at Hwy 1 and Taylor Way, West Vancouver. If you need a ride to the church, please post a request in this trip's planning forum.  We'll aim to arrive back in Vancouver by 6:00 pm.
Emergency contact info: please log in, click on: My Account > Edit Profile Information > Private Info and add it (you'll need to re-enter your password).  Your emergency contact info will be stored *privately* and made available to those organizing trips *you* choose to attend.
Cancellation due to weather: - check the weather forecast for where we're going on the morning of the trip (Environment Canada - weatheroffice.gc.ca). If the forecast is 40% PoP or less then we'll go. Anything *above* 40% PoP and the trip is automatically cancelled... *unless* the trip organizer contacts the group to say otherwise.
Other trips or events organized by this BCMC member

BCMC Policy and Best Practices Committee

A day of moderate [5.8-5.10b] single-pitch crack and slab climbing in the Squamish area.

A day of moderate [5.9-5.10b] single-pitch crack and slab climbing in the Squamish area.