Name: Mount Baker Ski
Starts: Sat May 06, 2017
Meetup: TBC
Return: Sun May 07, 2017
Registration opens: Sat Apr 22, 2017
Event category: Backcountry Skiing
Difficulty grade: C3 [?]
For members only: Yes
Screening used: Yes
Max participants: 9
Organizer: Konstantinos Voulpiotis

Profile info:
Please read trip description carefully. If I don't know you, please write a brief description of your experience on the mountains, including off-piste skiing ability, and avalanche and mountaineering training.
- Do you have a rope that you can bring in the trip? What type?
- Do you have a vehicle and can you carry more passengers and gear?
- Are you able to depart on Friday if conditions favour that?
- Do you have a map of Mount Baker?
- Are you able to travel to the US?
- Do you have/are you prepared to buy insurance for your trip?
You must login in order to sign up online for one of the BCMC Trips. If you don't have a BCMC membership account then please obtain one.  If you'd prefer to learn more before joining then please join as a 30-day Guest member.   Some trips are BCMC members only.
Join me to climb a classic high peak and ski down, conditions allowing. I have climbed Baker twice last season via the same route, but not on skis.
Climb Details:
The plan is to do an overnight trip. We will approach the mountain on Saturday morning via the Heliotrope Ridge and camp at either Hogsback (longer summit travel but with more time on light packs) or Football Field (shorter summit travel but with more time on heavy packs). We will then travel up to the summit via the Coleman/Deming route early on Sunday morning (alpine start not needed but again conditions will dictate that). Skiing the Roman Wall is a decision that will probably be made once we are at Pumice Ridge. After the summit, we will ski down to camp, break camp, and ski/hike out to get ourselves some (hopefully) well deserved burgers from Bob. More details will be figured out once we have more beta on the condition of the route, plus approach road conditions. See attached screenshots of the previous trips I did but keep in mind they were in June with a lot less snow.
It has been an amazing season so far and I expect crevasses to be well filled in. Depending on how the weather will continue in the coming weeks, I expect us to travel unroped, with 30-40m half ropes to allow unexpected roping up and/or rescue. Gear will be finalised in the planning forum once we have final participants and conditions. Probably one rope per team of three. 
Gear:
- PASSPORT / travel documents
- Touring ski or splitboard setup with avalanche gear (beacon, shovel, probe)
- Winter camping gear (tents and stoves to be shared)
- Ski crampons
- Boot crampons (depending on conditions - make sure they fit your ski boots!)
- Harness
- Rope (1 per team); 30-40m half rope preferred
- Basic crevasse rescue gear (one pulley, one prussik, two slings (single and double), 1 large carabiner and 2-3 lockers)
- Ice ax/whippet
- Headlamp and spare fresh batteries
- Sunglasses with side protection
- Sun cream
- Do you have your 10 essentials?
- CHEESE
- Good cameras encouraged!
Risk:
My risk tolerance is relatively low and I expect a similar level from participants. The trip will only go ahead in great conditions. Avalanches have been very tricky this year and we will have to pay extra attention to the conditions, especially with regards to the persistent weak layers. Abnormal weather conditions of any kind will likely redflag the trip. Poor conditions will postpone the summit attempt to another weekend, and we will likely ski something less dangerous, or cancel the weekend all together. A final decision will be made Friday afternoon.
Mount Baker is a stunning mountain which I want to ski, but this desire will not affect safety decisions on the mountain. If we need to turn around 3/4 up the way on the Roman Wall, we will do that. Summit fever not tolerated.
..
Don't freak out, Ι'm pretty chill once safety standards have been set ;) It will be an amazing trip!
About my experience: I have been climbing, snowboarding and skiing in Canada in the almost 2 years I have been living here. I still haven't tried the fat skis to be able to let go of my snowboard obsession, but I tour on skis for convenience. I have climbed Baker twice and toured/ski mountaineered around Vancouver and the Sea to Sky corridor. I like to take it easy on the mountains and enjoy the view instead of rushing through, if possible. Notorious cheese eater and food lover in general. In love with winter camping/exciting snow structures.
Konstantinos
Day 2 travel (from previous mountaineering trip)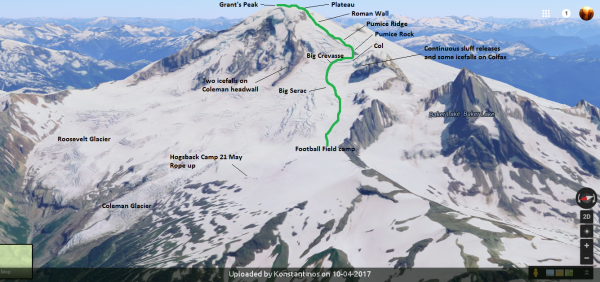 Other trips or events organized by this BCMC member

Essential practice as we get ready for spring

Practice snowshelter building and welcome 2017 out in the wild!

Skin up, build an awesome shelter and spend the night in it