1. Have you hiked at altitude before?
2. Have you done long trekking trips before?
3. Have you ever been to Nepal?
You must login in order to sign up online for one of the BCMC Trips. If you don't have a BCMC membership account then please obtain one.  If you'd prefer to learn more before joining then please join as a 30-day Guest member.   Some trips are BCMC members only.
Trip Description
The High Passes of Everest trek takes part entirely in Sagarmatha national park (also known as Khumbu or Everest region). Sagarmatha National Park is the home of the famous Sherpa people, as well as the highest mountains in the world.
We start our journey in Kathmandu, the capital of Nepal, which is full of historic temples and bursting with culture. A guided tour will be planned for those who wish to learn more about the city and religious sites. We then take a short flight to Lukla where the trek begins. Our trek takes us through the heart of the Khumbu region on some lesser traveled trails and over 3 high passes, all over 5,300m.

We also climb 3 mountains at similar elevations - all giving incredible views of the neighboring peaks such as Everest, Lhotse, Makalu, Cho Oyu, and Ama Dablam. Other highlights include Gokyo Lake, a beautiful turquoise lake surrounded by glaciers, and Namche Bazar, the busy market town at the entrance to the Khumbu valley. We will also take a day trip to the famous Everest Base Camp where you can gaze up at Mt Everest and the Khumbu Ice Fall.

This trek involves back-to-back days of trekking at high altitude, sometimes over very rugged terrain. We expect all trekkers to have a high level of fitness so they can deal better with the altitude and the physically demanding nature of the trek. Our itinerary is tried and tested and includes multiple acclimatization and rest days along the way. However, we can't predict how each team member will react to the altitude so we ask that all participants come well prepared for the demand of this trek (which means you need to train!).

Basic Schedule
Oct 15 - Land in Kathmandu (If flying from Vancouver, we'll try to fly together, departing Oct 14)
Oct 17 - Fly to Lukla, Start Trek
Oct 23 - Gokyo Lake
Oct 27 - Everest Base Camp
Nov 1 - End Trek
Nov 2 - Fly Back to Kathmandu
Nov - 4 Depart Kathmandu for home
Trip Costs
Costs are dependent on the number of participants we have on the trip. All prices are in US Dollars and does not include international flights, insurance, tipping, lunch/dinner/spending money in Kathmandu, Entry Visa into Nepal, Additional nights in Kathmandu.
 Prices are as follows per person: 4-6 trekkers = $3,100 7-8 trekkers = $2,700 9-10 trekkers = $2,450 11-14 trekkers = $2,300

About The Staff
This trek is being organized to mark a new partnership between myself (John) and my good friend Namgya Sherpa - we hope to encourage more people to visit Nepal and experience its beauty.
Our team will have at least 2 staff members, possibly more if the size of the team warrants having additional staff.

Head Guide: Namgya Sherpa - a very experienced guide from Nepal and a good friend of mine. Namgya has summited Everest eleven times and spends most winters in Antarctica guiding on Mt Vincent. Namgya owns a guiding company called Grand Himalaya Treks and Expeditions   

Assistant Guide: John Gill - Experienced Himalayan trekker. John has climbed and trekked in the Himalayan mountains numerous times (including this trek) and lives/works in the West Coast mountains of BC, Canada.
For more information including kit lists, full price includes/excludes, full itinerary, etc. please contact:
E: johngill2527@gmail.com
T: 604-355-6678
Everest from Kala Patthar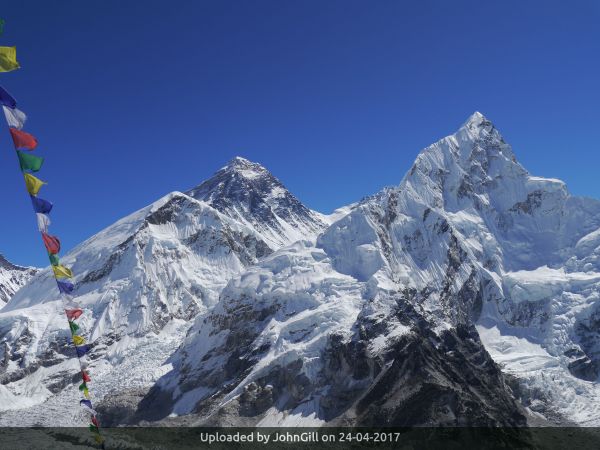 Other trips or events organized by this BCMC member

Ama Dablam Climb (6,854m) - Nepal

Joined with Ama Dablam Expedition

Top Rope/Lead climbing at the Edge Gym