Name: Manning Park area
Starts: Fri Apr 28, 2017
Meetup: 7 AM at the Chevron gas station at Dominion and Boundary in Burnaby
Return: Fri Apr 28, 2017
Registration opens: Wed Apr 26, 2017
Event category: Backcountry Skiing
Difficulty grade: C3 [?]
For members only: No
Screening used: Yes
Max participants: 6
Organizer: Paul Kubik

Profile info:
Please look at the elevation profile and determine if this trip is for you. It is a longish approach for 10 km along a relatively flat logging road. Then a good trail at a steady grade. The last 1.5 km is where the last 800 meters of elevation is gained.
You must login in order to sign up online for one of the BCMC Trips. If you don't have a BCMC membership account then please obtain one.  If you'd prefer to learn more before joining then please join as a 30-day Guest member.   Some trips are BCMC members only.
About 15 km and 1230 meters elevation gain. Download the elevation profile in the Trip Files section for a higher resolution map with details of the route. If you need more information email me privately. I'm not planning on an early start as the weather is forecast to improve in the afternoon. So we will be making the most of the evening daylight.
Required equipment: headlamp, snow shovel, beacon, probe.
Note: it is possible that the lower section of the route (perhaps for 3 km) will require walking along a good trail with patchy snow. Bring some alternate footwear for the trail and be prepared to carry your skis or board.
Elevation profile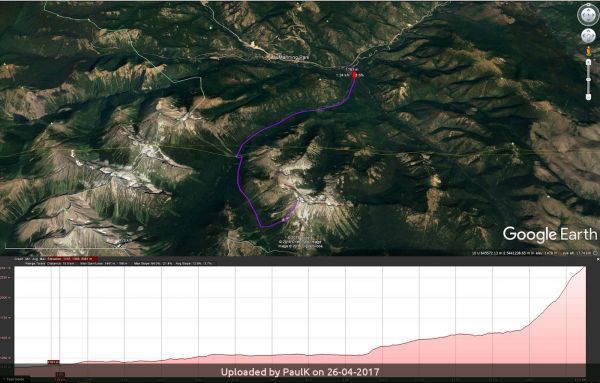 Other trips or events organized by this BCMC member

Ski ascent from near the end of Mamquam FSR

Ski touring off Lightning Lake chain in Manning Park

Ski touring off the Coq. Approach from Britton Creek R.A.