Name: CLIMBING TRIP up to Smoke Bluffs - Sign up closed
Starts: Mon May 22, 2017
Meetup: West 5th Avenue and Cypress 11:00 am
Return: Mon May 22, 2017
Registration opens: Sun May 07, 2017
Event category: Rock Climbing
Difficulty grade: 5.7-5.9 [?]
For members only: Yes
Screening used: Yes
Max participants: 5
Organizer: Dan Giroday

Profile info:
1. Will you bring cash to help pay for fuel?
2. Have you taken a learn to belay class? If so where?
3. When was the last time you belayed?
4. Will you help carry communal gear ie. dynamic rope, anchor building material?
5. Have you watched the following video on belaying?
https://www.youtube.com/watch?v=CFIz4cBFVro
You must login in order to sign up online for one of the BCMC Trips. If you don't have a BCMC membership account then please obtain one.  If you'd prefer to learn more before joining then please join as a 30-day Guest member.   Some trips are BCMC members only.
This trip has an adequate number of participants and sign up is closed. If you have been added to the confirmed list you are confirmed.
We will all head in my car to the Smoke bluffs to do some top roping.  We will rendezvous at my place at West 5th Avenue and Cypress St.
I will bring the ropes and anchor building material.
I will set up the anchors.
If the weather forecast is not favourable, I will push it back one day. 
You just need to bring your harness, climbing shoes, helmet, belay device, locking biner, and other personal items.

Optional items: Camera, swim suit
This is not a climbing course, just climbers going climbing.

Objectives: Climb dihedrals, cracks, slabs, and maybe arretes. 
Climb Davey Jones Locker, Cat Crack, and climbs at Ronin's Corner

Go for a swim in a lake (optional) afterwards if the weather is hot and everyone wants to take a dip. 
Expectations:
You must be a good belayer and follow all the standards and best practices and have taken a belay class. 
1. Do a buddy check

2. Communicate with your climber

3. Not put your brake hand near the pinch point of the belay device

4. Maintain tension when your climber is over a ledge or the deck, etc.

5. Be attentive

6. Always keep the brake hand on the brake end of the rope

7. Wear a brain bucket

Etcetera

Any questions about the expectations please call my cell at 604-685-3666, I am happy to help.

The trip organizer reserves the right to select the participants that he feels are best suited for the trip.  The goal is to a have a blend of new and seasoned climbers to work together. 
If you don't answer the questions you won't be added to the confirmed list.

Silver Tip Climbing at Smoke Bluffs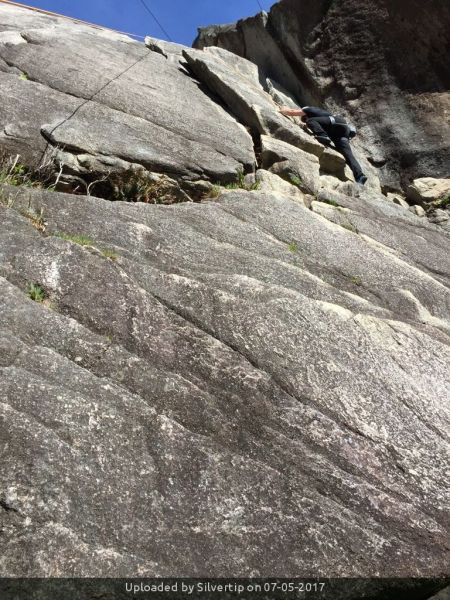 Other trips or events organized by this BCMC member

Video tape analysis of movement over the wall

No More Sign up - Trip Fulll - Climbing 5.6-5.9 - climbing Slab/dihedrals/cracks

Raffuse Recreation Site Survival Practice