Name: Last Minute Vantage Climbing
Starts: Thu Jun 01, 2017
Meetup: TBD
Return: Sun Jun 04, 2017
Registration opens: Tue May 30, 2017
Event category: Rock Climbing
Difficulty grade: B5 [?]
For members only: No
Screening used: Yes
Max participants: 8
Organizer: Carina Graf

Profile info:
1. What is your climbing experience (grades you're comfortable leading/top roping etc.)
2. Do you have a car?
3. If yes for #2: are you willing to drive and how many people besides you would fit in the car (including gear)
4. Is your emergency contact information up to date?
5. Do you have valid travel documents and health insurance?
You must login in order to sign up online for one of the BCMC Trips. If you don't have a BCMC membership account then please obtain one.  If you'd prefer to learn more before joining then please join as a 30-day Guest member.   Some trips are BCMC members only.
Who wants to escape the rainy city for an extended weekend of rock climbing in the desert?
We are planning to head out to Vantage, WA on Thursday evening or early Friday morning until Sunday late afternoon/evening and would be happy to be joined by people equally eager for some sport climbing.
Note: This is not an instructional programme and for the trip to be successful you should be able to safely belay on top rope, but ideally have experience lead belaying/climbing, too.
Camping is available directly at the crag and there is a pit toilet available. There is however no access to water onsite and the closest village/town is a 15min drive away.
A "best of" guidebook is available here: http://www.justgetout.net/ClientFiles/8ecf9e69-8f8f-419d-91d8-10c7ca9cbcbb/VantageGuide-AllEdited-515.pdf
Important:
We will be crossing the border, so make sure to bring your travel documents and ensure you have valid health insurance.
Please answer the questions at the left, to better plan a successful trip.
View of Feathers (easy climbs)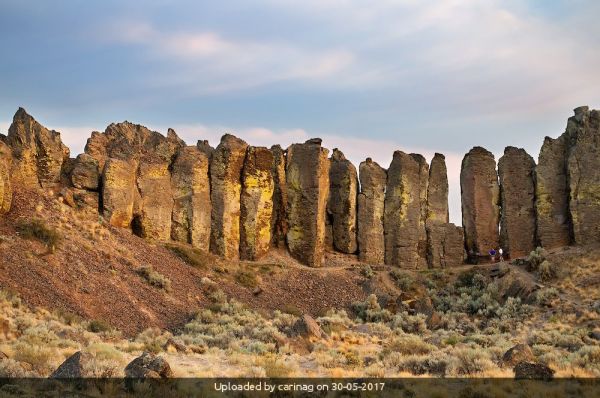 Other trips or events organized by this BCMC member

This "prep" session is ONLY for those confirmed to attend the Winter Camp on the February long weekend.