Name: Cragkeepers scrubbing session
Starts: Sat Jul 08, 2017
Meetup: 8 am, Smoke Bluffs parking lot
Return: Sat Jul 08, 2017
Registration opens: Tue Jun 06, 2017
Event category: Rock Climbing
Difficulty grade: A5 [?]
For members only: No
Screening used: No
Max participants: 8
Organizer: Eva van Emden

Profile info:
Will you be scrubbing, or are you volunteering only for ambassadoring?
You must login in order to sign up online for one of the BCMC Trips. If you don't have a BCMC membership account then please obtain one.  If you'd prefer to learn more before joining then please join as a 30-day Guest member.   Some trips are BCMC members only.
Cragkeepers
The Squamish Access Society works on behalf of climbers to maintain access to climbing, maintain trails, update and fix anchors and bolts, support crag development, and maintain climbs. Because Squamish is such a wet environment, crags quickly get dirty and mossy, and the Squamish Access Society has asked the community to help them keep the climbs in good shape. The BCMC and other clubs are stepping up to help with the Cragkeepers initiative: a group chooses a crag, gets about ten people to spend three hours scrubbing and brushing it, and then spends the rest of the day climbing.
The schedule
Scrub from 8 to 11. Take a break for lunch/snacks. Then spend some time climbing at the same crag or another, depending on group preference.
What we provide
brushes and tools for scrubbing
ropes
What you should bring
helmet! Really important because we'll be working side by side and could drop a tool or knock something loose.
harness
belay device and backup prusik
work gloves
comfortable hiking shoes
clothes that you don't mind getting dirty
equipment for climbing afterward (climbing shoes, chalk bag, rope, etc.)
optional gear that you might find useful: slings and carabiners for tethering brushes; aiders; knee pads; ascender
Skills required
You need to know how to rappel safely with a prusik backup, unless you'd like to volunteer to be the "ambassador." The ambassador will stay at the base of the crag to warn passers-by about falling crud, explain why the crag is temporarily closed, and generally boost the Squamish Access Society, the BCMC, and the Cragkeepers program. If no one wants to be the ambassador for the whole time, we can trade off.
The VRCG got off to a quick start. This is the VRCG Cragkeepers scrubbing Commonwealth Wall.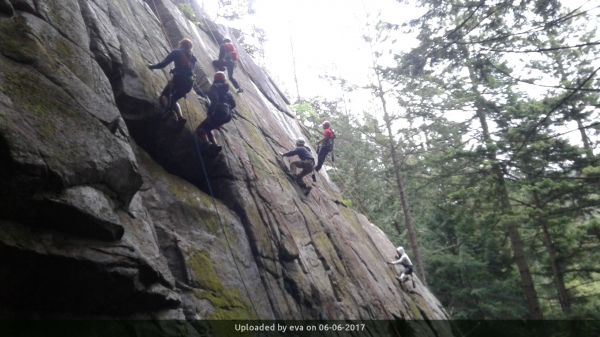 Other trips or events organized by this BCMC member

Indoor climbing at Ground Up Squamish

Indoor climbing at Ground Up Squamish

Indoor climbing at Ground Up Squamish