Name: Rexford Group Climbing
Starts: Sat Aug 05, 2017
Meetup: East Guildford Park-n-Ride 103 Av
Return: Sun Aug 06, 2017
Registration opens: Sat Jul 22, 2017
Event category: Mountaineering
Difficulty grade: C4 [?]
For members only: No
Screening used: Yes
Max participants: 6
Organizer: Henry Marsden

Profile info:
Recent mountaineering experience? Do you have a 4x4 or other high clearance vehicle?
You must login in order to sign up online for one of the BCMC Trips. If you don't have a BCMC membership account then please obtain one.  If you'd prefer to learn more before joining then please join as a 30-day Guest member.   Some trips are BCMC members only.

A very nice photo of the Neskawatch Spires & Mt Rexford (far right), taken by BCMC member Dennis Kasukawa.
We will take the trail up and camp, climbing Neskawatch North  Ridge (PD+ low 5th) and Rexford West Ridge (AD-Low 5th). on Saturday and Rexford on Sunday before descending. We will plan to solo or simul-climb these moderate rock routes (see Alpine select by Kevin McLean) using harness/ropes to descend trickier sections.  Participants should be comfortable to low grade 5 climbing unroped and alpine rappels for portions of the descent with all required gear.
We'll be meeting very early... 6am... with a lot of elevation gain on the first day.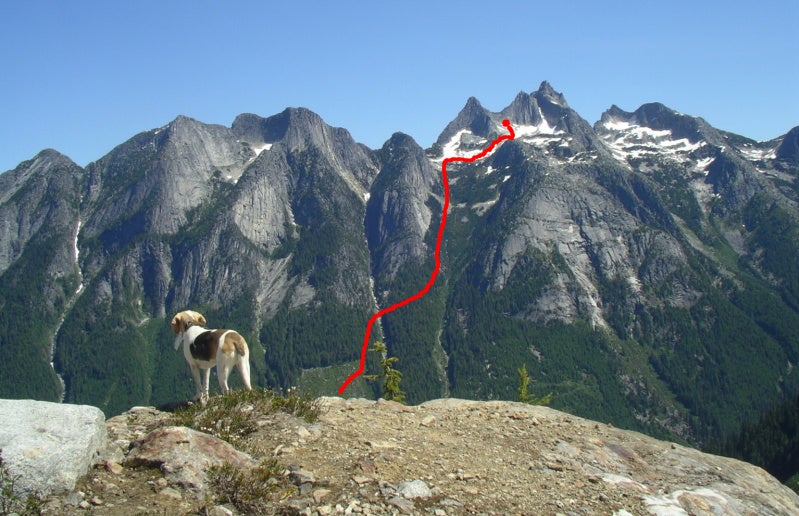 Other trips or events organized by this BCMC member

A moderate to difficult scramble up Saxifrage from Spetch Cteek

Zodiac ride to the Echo Lake Trail and up to Mt Murchison

A hike to easy scramble up Mt Rohr from Duffey Lk road