Name: Finishing the Watersprite Lake Cabin
Starts: Sat Jul 29, 2017
Meetup: 6:30am @ St Davids Church parking lot
Return: Tue Aug 01, 2017
Registration opens: Tue Jul 25, 2017
Event category: Volunteer Meeting
Difficulty grade: B 2 [?]
For members only: Yes
Screening used: Yes
Max participants: 20
Organizer: David Scanlon

Profile info:
Can you drive and take passengers? All wheel or 4 wheel drive vehicles needed to reach the trailhead.
Which day will you be hiking out? It would be GREAT if you could stay until Tuesday.
Please note, there is only limited room for the heli fly-in... please bring only what you need.
You must login in order to sign up online for one of the BCMC Trips. If you don't have a BCMC membership account then please obtain one.  If you'd prefer to learn more before joining then please join as a 30-day Guest member.   Some trips are BCMC members only.
To-Do List:
Porch floor and railing to be worked on.  Metal cladding on both upper walls and the power skirting area. Porch bench. Painting the lower floor. Basement to be cleared out. Path to the stream to be improved. Trail to the camping area to be worked on. Garbage to be cleared up. Scouting out of and work on 2 outhouses to begin.
Everyone will be flown in (by Helicopter) to the cabin. This trip will use a screening process to ensure skilled workers are confirmed first. There will be a very early meeting time (6:30am) to ensure we're all at the trail head by 8:30am for the heli pickup. Some of us will be staying until Tuesday. If you're able, please stay as long as you can.
NOTE: this is a working trip only. 
We've come so far... and we're very close to finishing :-)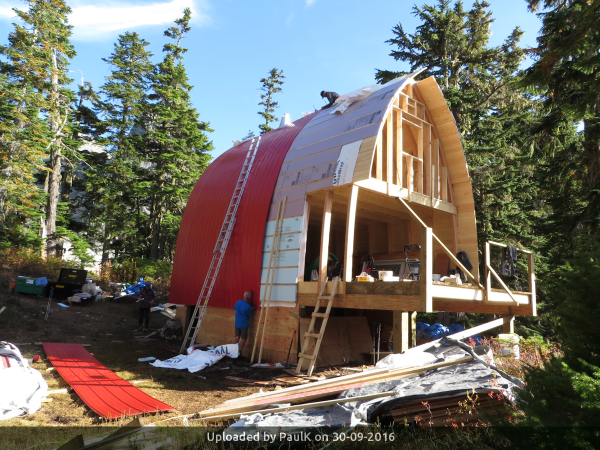 Other trips or events organized by this BCMC member

The annual VIMFF event that your BCMC supports

Bagging firewood Friday. storing it in the at Watersprite cabin Saturday

A BCMC Legends and Legacy banquet at Grouse Mtn October 27th.