Name: Mt Brunswick
Starts: Sat Aug 05, 2017
Meetup: St David's Church
Return: Sat Aug 05, 2017
Registration opens: Wed Aug 02, 2017
Event category: Scrambling
Difficulty grade: B2/3 [?]
For members only: Yes
Screening used: Yes
Max participants: 4
Organizer: Artem Onyanov

Profile info:
There will be a few exposed sections at the top. Are you comfortable with scrambling this?
Can you drive?
Whats your hiking speed?
Grouse grind time? (only if you've done it)
You must login in order to sign up online for one of the BCMC Trips. If you don't have a BCMC membership account then please obtain one.  If you'd prefer to learn more before joining then please join as a 30-day Guest member.   Some trips are BCMC members only.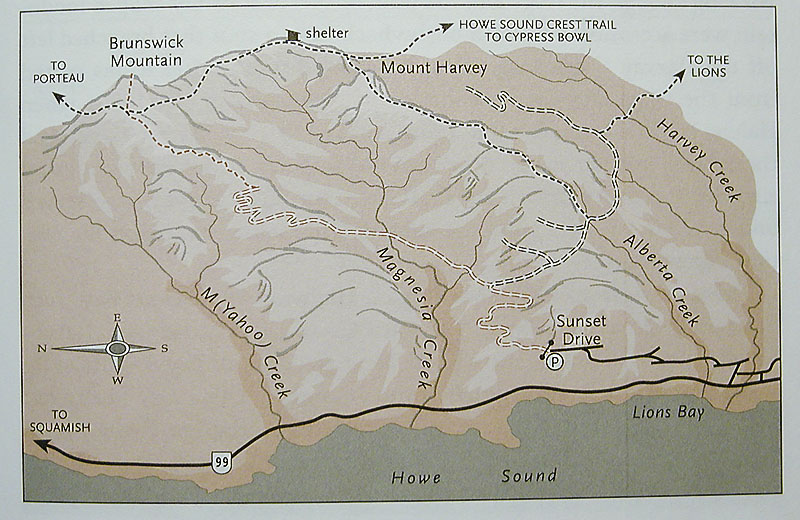 Moderate scrambling trip to Mt Brunswick as described in Matt Gunn's book. We will meet at the St David's church at 8:30 and start at the trail head around 9am. We will park at the school if the parking lot is full. I'll be renting a modo car but if someone is willing to drive, that would be great. Let's arrange carpooling in the planing forum.
This will be my first time doing this route. It shouldn't be too crowded as the Lions is way more popular destination.
Sturdy hiking boots and 10 essentials are a msut. Microspikes and ice axes are optional but we may encounter some snow. We will access the situation above the tree line and decide if can make it to the summit. 
This will be a moderate pace hiking. Nothing too crazy but not slow. It should take us 6-8 hrs from the trail head and back.
 Any questions, please don't hesitate to ask. 
Other trips or events organized by this BCMC member

Ski touring on Puma S1 in Callaghan

10km return trip, 1200m elevation gain