Name: Northeast Buttress of the West Lion
Starts: Sun Aug 27, 2017
Meetup: 6am @ St Davids Church
Return: Sun Aug 27, 2017
Registration opens: Sun Aug 20, 2017
Event category: Mountaineering
Difficulty grade: C4 [?]
For members only: Yes
Screening used: Yes
Max participants: 4
Organizer: Paul Olynek

Profile info:
What have you done recently that's considered a difficult scramble?
What is your current alpine rock climbing experience and level?
Do you enjoy scrambling steep exposed ridges?
You must login in order to sign up online for one of the BCMC Trips. If you don't have a BCMC membership account then please obtain one.  If you'd prefer to learn more before joining then please join as a 30-day Guest member.   Some trips are BCMC members only.
This route is rarely climbed so there is not a lot of information online.
From rockclimbing.com
"A long buttress on the northeast side of the mountain. Cruxy climbing on the lower third leads to a ledge. Above the ledge scramble on the left side of the crest through a tunnel in the thick bush then climb right on the arete to a fun move off a giant perched boulder and on to the summit."
My understanding is it's about 10 pitches of mostly scrambling with some 5.6 moves (sandbagged 5.4)... so we'll take some technical climbing gear just to be sure.  We'll descent via the standard route.
I'd estimate the car-to-car time will be 10-12 hours... so we'll meet reasonably early, at 6am, to get the most of the day-light.
Route description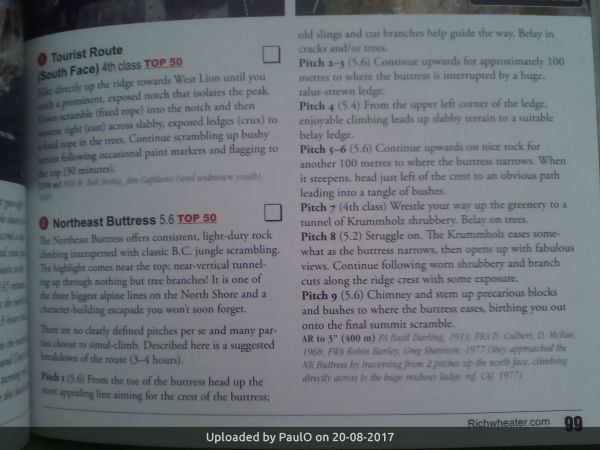 Other trips or events organized by this BCMC member

BCMC Policy and Best Practices Committee

A day of moderate [5.8-5.10b] single-pitch crack and slab climbing in the Squamish area.

A day of moderate [5.9-5.10b] single-pitch crack and slab climbing in the Squamish area.