Name: Squamish Single-Pitch Rock Climbing
Starts: Thu Sep 14, 2017
Meetup: 10:00am St Davids Church, Hwy 1 & Taylor Way
Return: Thu Sep 14, 2017
Registration opens: Tue Sep 05, 2017
Event category: Rock Climbing
Difficulty grade: A5 [?]
For members only: Yes
Screening used: Yes
Max participants: 4
Organizer: Paul Olynek

Profile info:
What is your current outdoor climbing level?
Will you bring a climbing rope and/or trad gear?
Can you drive to the Squamish area and back?
You must login in order to sign up online for one of the BCMC Trips. If you don't have a BCMC membership account then please obtain one.  If you'd prefer to learn more before joining then please join as a 30-day Guest member.   Some trips are BCMC members only.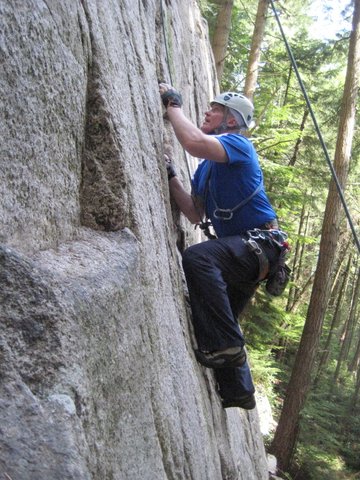 Expect a full day of climbing 5.9-5.10b crack (trad), slab or sports routes in the Squamish area.  There should be opportunities for both leading and top-roping... depending on skill levels. 

All participants must bring their personal climbing gear... including: harness, belay device, locking biner, climbing shoes, and helmet. Also recommend plenty of water and energy snacks.
Ropes & anchor material for this event are provided by participants and not by the club. If you have a full strength climbing rope and anchor material, please do bring it.
While the more experienced climbers are usually happy to share their knowledge, this is not a climbing course.
Meet at 10:00 am at St. David's Church parking lot at Hwy 1 and Taylor Way, West Vancouver. If you need a ride to the church, please post a request in this trip's planning forum.  We'll aim to arrive back in Vancouver around 7:00 pm.
Emergency contact info: please log in, click on: My Account > Edit Profile Information > Private Info and add it (you'll need to re-enter your password).  Your emergency contact info will be stored *privately* and made available to those organizing trips *you* choose to attend.
Cancellation due to weather: - check the weather forecast for where we're going on the morning of the trip (Environment Canada - weatheroffice.gc.ca). If the forecast is 40% PoP or less then we'll go. Anything *above* 40% PoP and the trip is automatically cancelled... *unless* the trip organizer contacts the group to say otherwise.
Other trips or events organized by this BCMC member

BCMC Policy and Best Practices Committee

A day of moderate [5.8-5.10b] single-pitch crack and slab climbing in the Squamish area.

Climbing the long exposed Northwest Ridge of Mt Sir Donald... solid rock-climbing experience required.