Name: Cragkeepers scrubbing session
Starts: Sun Sep 17, 2017
Meetup: 8 am, Smoke Bluffs parking lot
Return: Sun Sep 17, 2017
Registration opens: Sun Sep 10, 2017
Event category: Rock Climbing
Difficulty grade: A5 [?]
For members only: No
Screening used: No
Max participants: 10
Organizer: Eva van Emden

Profile info:
Will you be bringing a rope (ropes)?
You must login in order to sign up online for one of the BCMC Trips. If you don't have a BCMC membership account then please obtain one.  If you'd prefer to learn more before joining then please join as a 30-day Guest member.   Some trips are BCMC members only.
Cragkeepers
The Squamish Access Society works on behalf of climbers to maintain access to climbing, maintain trails, update and fix anchors and bolts, support crag development, and maintain climbs. Because Squamish is such a wet environment, crags quickly get dirty and mossy, and the Squamish Access Society has asked the community to help them keep the climbs in good shape. The BCMC and other clubs are stepping up to help with the Cragkeepers initiative: a group chooses a crag, gets about ten people to spend three hours scrubbing and brushing it, and then spends the rest of the day climbing.
The schedule
The hour-by-hour weather forecast predicts rain starting in the afternoon. Let's climb from 8 to just before 11, lunching on the run, then scrub until we're done or it's raining too hard. Bring good rain clothing, a tarp to protect your climbing gear, and maybe something dry to change into. Meet at Wendy's or A&W after for a burger.
What we provide
brushes and tools for scrubbing
What you should bring
helmet! Really important because we'll be working side by side and could drop a tool or knock something loose.
harness
belay device and backup prusik
work gloves
comfortable hiking shoes
clothes that you don't mind getting dirty
equipment for climbing afterward (climbing shoes, chalk bag, rope, etc.)
optional gear that you might find useful: slings and carabiners for tethering brushes; aiders; knee pads; ascender
we need a few people to bring ropes: if you have a rope that is safe to use but you don't mind getting it dirty, please bring it
Skills required
Rappelling safely with a prusik backup.
Building top-rope anchors (or ask someone who does know).
Scrubbing at Second Avenue. Photo by carinev.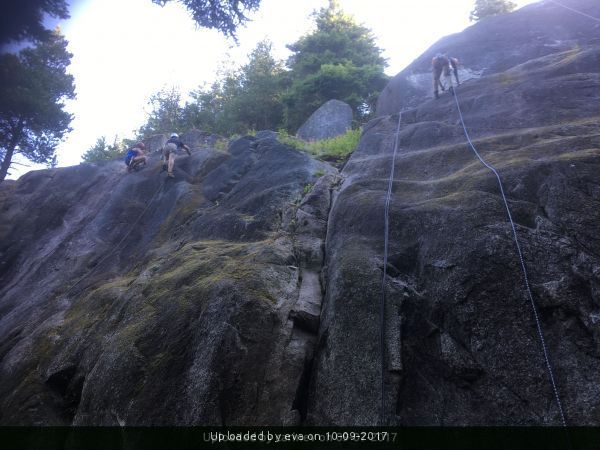 Other trips or events organized by this BCMC member

Indoor climbing at Ground Up Squamish

Indoor climbing at Ground Up Squamish

Indoor climbing at Ground Up Squamish