Name: Watersprite Lake Trail Upgrades Boulders, Boardwalk and Bush
Starts: Sat Oct 07, 2017
Meetup: St. Davids at 7:00am (As Usual)
Return: Sat Oct 07, 2017
Registration opens: Sat Sep 23, 2017
Event category: Trail Clearing
Difficulty grade: A1-B1 [?]
For members only: No
Screening used: Yes
Max participants: -
Organizer: Chris Ludwig

Profile info:
Do you have a 4x4?
What trail building tools do you own?
Do you have safety gear?
Do you Have Steel Toe Boots?
You must login in order to sign up online for one of the BCMC Trips. If you don't have a BCMC membership account then please obtain one.  If you'd prefer to learn more before joining then please join as a 30-day Guest member.   Some trips are BCMC members only.
The Watersprite Trail has become immensely popular and this work trip will provide critical upgrades needed for the trail and the general public.
UPDATE OCTOBER 6th
We will once again be joined by enthusiastic volunteers from Chasing Sunrise for this important work trip.  So far we have over 25 confirmed participants from Chasing Sunrise joining us.
Volunteers will be performing the following tasks and can choose which work zone is best for them based on their skills and fitness (See Map Below):  Update:  We will travel as one giant mob of 35+ and work our way up the trail clearing any and all vegetation in our way.  We will also inspect and repair any infrastructure requiring attention.
Task 1/Work Zone 1: Brush out the massive amounts of bush on the S Line at work Zone 1
Task 2/Work Zone 2: Brush out and Grub the Upper Logging Road at the scenic Prow Lookout (Work Zone 2)
Task 3: Inspect, repair and add new stairs in connector trail.
Make sure to bring Rain Gear and Headlamps at this time of year as a precautionary measure.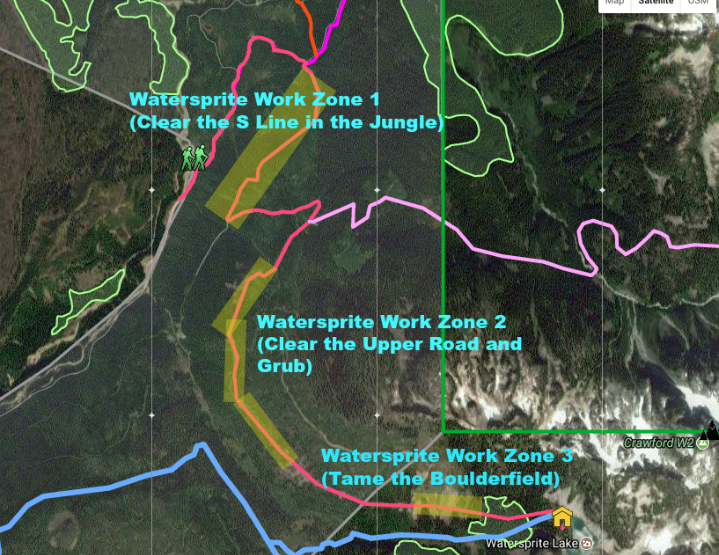 Other trips or events organized by this BCMC member

Watersprite Lake Trail Construction - Clearing, Boardwalk and Drainage

Watersprite Lake Trail Construction - Boardwalk and Stairs/Steps

1hr info session for members wanting to start/improve organizing club trips (from 6-7:15pm, before BCMC Social).