Name: Cypress Peak AT Ski & Scramble
Starts: Sat Nov 25, 2017
Meetup: St Davids, Commercial and Broadway
Return: Sat Nov 25, 2017
Registration opens: Wed Nov 15, 2017
Event category: Backcountry Skiing
Difficulty grade: B 2/3 [?]
For members only: Yes
Screening used: Yes
Max participants: 8
Organizer: Dean Chamberland

Profile info:
-Can you Drive? If so, do you have a FSR-capable vehicle with snow tires or chains?
-Is glacier / crevasse rescue practice of interest? Assume an hour for this if so.
-Primary meeting place is St Davids, however advise if downtown or Commercial & Broadway are preferred
You must login in order to sign up online for one of the BCMC Trips. If you don't have a BCMC membership account then please obtain one.  If you'd prefer to learn more before joining then please join as a 30-day Guest member.   Some trips are BCMC members only.
Cypress Peak AT Ski & Scramble
- goal is to summit Cypress Peak and (ideally) ski back down to the cars
- there may be enough snow on Roe Creek FSR and the lower elevations to possibly allow a skin up from the road and a full ski down. We'll have to wait & see, but the snowfall and long-range mtn forecast look good for the 25th
- the road should still be doable much of the way with a low clearance vehicle (chains might be needed) , however I recommend we (if possible) go with a higher clearance car to get closer to the end of the road. Thank you in advance to any willing participants that could take us up the FSR
- total trip should be ~7 hours car to car
- avalanche conditions will have final say 
Mandatory: 
⦁minimum AST1 
⦁avalanche safety package 
⦁appropriate ski touring gear 
⦁ice axe, crampons, helmet for the push to the summit, as skis will probably be left on the ridge
⦁strong physical conditioning & basic backcountry skiing capabilities
Optional: 
⦁glacier travel & crevasse rescue gear incl rope: if time and conditions permit, we could perform some practice on the pocket glacier, but I'm wary to go on it any distance until stronger snow bridges form deeper in to the season. Route will most likely circumvent the glacier or follow the outer edge
⦁Please use the trip planning forum and respond to planning questions
⦁If conditions are poor, proposed Plan B is MacDonald Peak (Chilliwack Lake)
photo by Trev Hawkin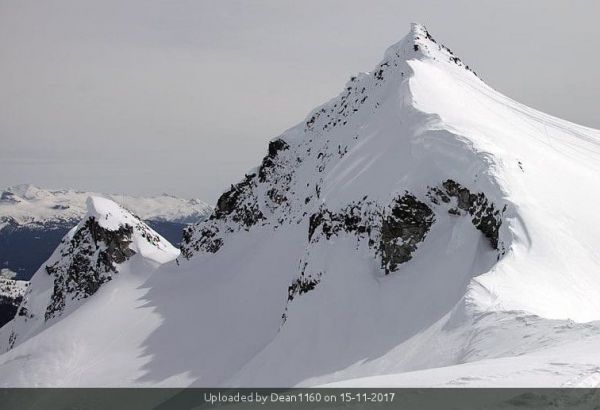 Other trips or events organized by this BCMC member

Day trip up Cayoosh Mtn via the normal route (J. Baldwin, p 127).

Skin up from Callaghan Valley via Hanging Lake

Expect an epic trip to the highest peak in western Europe