Name: Overnight in a Quinzee at Elfin Lakes
Starts: Sat Jan 20, 2018
Meetup: Squamish Golf Club (2458 Mamquam Rd, Squamish), Saturday Jan 20, 8am
Return: Sun Jan 21, 2018
Registration opens: Sun Jan 14, 2018
Event category: Snowshoeing
Difficulty grade: B2 [?]
For members only: No
Screening used: Yes
Max participants: 12
Organizer: Marc Plumb

Profile info:
Are you driving?
What type of vehicle (4WD, winter tires, chains)?
You must login in order to sign up online for one of the BCMC Trips. If you don't have a BCMC membership account then please obtain one.  If you'd prefer to learn more before joining then please join as a 30-day Guest member.   Some trips are BCMC members only.
Meet Saturday morning at 8am at the Squamish Golf Club (2458 Mamquam Rd, Squamish, BC V8B 0H8), based on snowfall and cars available, figure out the best way to get to the trail-head and start hiking by 9am. Snow tires and chains are recommended to drive up to the trail-head, but it's possible to take a taxi most of the way, if the various cars available can't handle the road. (We will figure this out on the forum for this event, so please list what type of vehicle you have.) 
Hike and snowshoe up to Red Heather shelter, warm up, then continue up to the Elfin cabin (3-5 hours). There are a lot of other people heading up to, and down from, the cabin so the trail should be well packed.
The cabin is fully booked, so instead we'll build one or two person quinzees/snow caves to sleep in. We can stay warm and eat in the cabin, and then go out to the quinzees to sleep. (Please make a reservation for a tent spot at Elfin.)
You will need:
* Snowshoes for the hike up.
* A folding shovel to build a quinzee.
* A sleeping bag that can keep you warm down to at least -10 deg C. (MEC rents these.) It stays pretty warm inside a quinzee so it will probably be closer to zero, but a bit of extra warmth is nice. A sleeping pad to help insulate you from the ground. A tarp to put on the floor to help keep the sleeping pad and sleeping bag dry.
* Food, water bottle, stove, headlamp, toiletries, etc.
If you need a carpool from Vancouver, let us know in the forum.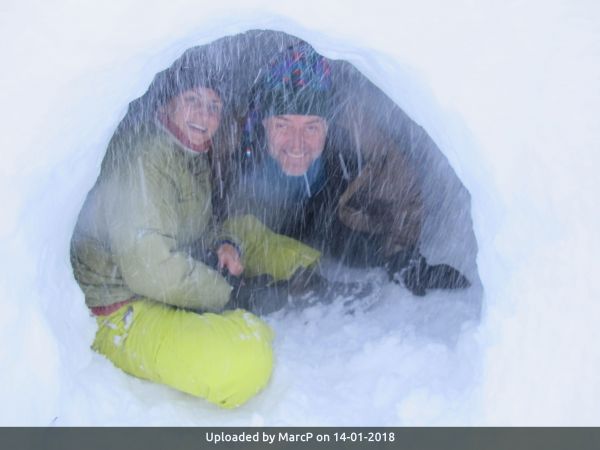 Other trips or events organized by this BCMC member

Dec 26-31: Watersprite Hut Trip + Helicopter fly-in/out