Name: Downhill Ski Instruction
Starts: Tue Jan 30, 2018
Meetup: 6:30 pm Cypress
Return: Tue Jan 30, 2018
Registration opens: Tue Jan 23, 2018
Event category: Instructional Program
Difficulty grade: A2 [?]
For members only: Yes
Screening used: Yes
Max participants: 12
Organizer: Tam McTavish
Profile info:
What grade of skiing are you comfortable?
Can you do parallel turns?
How comfortable are you skiing moguls?
How many trips have you done with the BCMC?
Have you already or would you consider organizing or leading a trip through the BCMC in the future?
How much Backcountry Skiing have you done so far?
On a scale of "meh" to "Stoked brah" how keen are you on backcountry skiing?
What's your favourite resort?
Do you have a seasons pass anywhere?
Do you have a vehicle?
You must login in order to sign up online for one of the BCMC Trips. If you don't have a BCMC membership account then please obtain one.  If you'd prefer to learn more before joining then please join as a 30-day Guest member.   Some trips are BCMC members only.
Back by popular demand!
Jack Casey and myself are running a downhill ski clinic for the BCMC. The goal of the course is to build up people's ski technique so they can access backcountry terrain with confidence. We will be covering common technique errors and go over ways to improve those skills. Our aim is to have everyone leave with a couple key areas to focus on.
Payment: There will be a $20 charge to join this course to cover the cost of the instructors' lift tickets. Payment will be visible once you are on the wait list and the BCMC has added a paypal link (note: paypal links are only visible on desktop applications, not on mobile devices). You will be confirmed when the organiser has received notification of your payment. You have to cover the cost for your own ticket. NOTE: Paypal Course Payment Button is not Visible on Mobile Devices
Participation: The list will be filled on a first come first serve basis and the screening questions at the organizer's discretion. This trip is primarily for people who are getting - or already comfortable with blue runs. While we'd like to make this open to everyone, entry level skills are time-consuming to go over, and make it harder for us to assist other members. If you're an entry level skier looking to learn please let me know.
Instructors: Myself, Tam McTavish, a former Whistler Ski Instructor and CSIA lvl 1 , and Jack Casey, a former Grouse Ski Instructor and current CSIA lvl 2 will be your instructors. Jack and myself will each take 6 people based on skiing ability, for a group of 12 total.
What to bring and expect: All personal skiing gear must be arranged ahead of time by yourself. We will not wait for people to arrange rentals. Participants are expected to have everything they need for a 6 30pm departure, so we can promptly get skiing. While the aim of this course is to help people ski in the backcountry, no backcountry safety or instruction will be covered. The focus is purely ski technique.
Transportation to Location: Carpools will be organised once we have a final participant list. We will be skiing at Cypress Mountain on Jan 30th an email with the when and where to meet will be sent out to all people on the confirmed list two days in advance of the course.  
Contact: If you want to contact me please email me at tammctavish@gmail.com. Do not email through the BCMC website.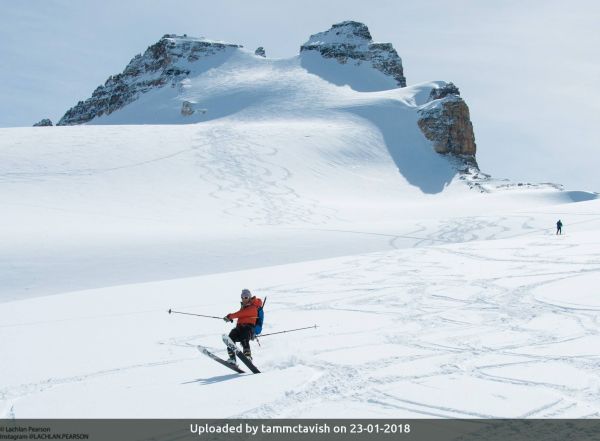 Other trips or events organized by this BCMC member

Downhill ski training for Beginner to Intermediate

Downhill ski training for Beginner to Intermediate

Crown Mountain, Full On Fall Conditions