Name: BCMC Summer Camp 2018
Starts: Sat Aug 04, 2018
Meetup: TBD
Return: Sun Aug 12, 2018
Registration opens: Fri Mar 09, 2018
Event category: Mountaineering
Difficulty grade: A1 TO C5 [?]
For members only: No
Screening used: Yes
Max participants: 20
Organizer: Claire Tallon

Profile info:
You must login in order to sign up online for one of the BCMC Trips. If you don't have a BCMC membership account then please obtain one.  If you'd prefer to learn more before joining then please join as a 30-day Guest member.   Some trips are BCMC members only.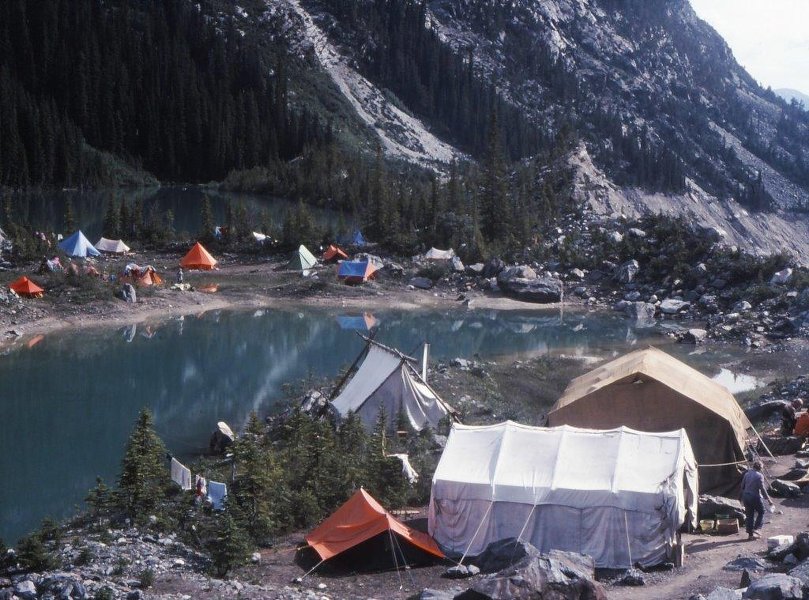 History..
The BCMC 'Summer Camp' had been an annual highlight dating all the way back to 1910, when the first official BCMC Camp was assembled in Red Heather Meadows (in what would eventually become Garibaldi Provincial Park). The club's Summer Camps provided an opportunity for a larger group of BCMC members to set up a base camp from which they could fully explore and climb in a region while the weather was (hopefully) good.  Some camps were very popular among club members... the 1926 camp in Black Tusk Meadows was attended by 102 people over its two week span!  Since those nascent days of the B.C. Mountaineering Club, the camps have been held in virtually all the mountainous regions of British Columbia.
In 2016 the BCMC Summer was put up again and 25 ppl set it up at the Russian Army Camp in the Tantalus Range.
 Let's get back to the tradition and put up another one this coming summer.
 This would be the first week of August as a celebration of the BC Day - August 4th to Aug 12th.
 A team of volunteer are working on all the details, but be prepared to allow the entire day of Saturday August 4th to transport the group to the camp, and the entire day on Sunday, August 12th to transport from the camp. If you wish to arrive or depart on different days, then you must arrange your own transportation. Discounts will not be given. 
 There is still a lot to decide (location, logistics, number of person, etc...) and I'll update this post as soon as we have more information. 
CALL FOR VOLUNTEERS FOR THE ORGANISATION - 
If you want to be part of the organisation, share your ideas, add one more brain to the brainstorming session, share your past experiences, please, contact Claire. 
There is also a brainstorming session, on March 13th, that you can join too. If you don't know if you could join the camp in August, you can still help with the organisation before hand and share your ideas. Everyone is welcome!
CALL FOR VOLUNTEERS AT THE CAMP -
we will be looking for volunteer course/workshop instructors. If you have a skill you can share, please get in touch with Claire. Maybe you can do a 1-day mountaineering skills workshop, maybe you want to teach slacklining, maybe you've got some neat rope and knot skills you want to share. Can be half-day to multi-day, or even things to do in the evening. 
If you like cooking and want to share some of your favorite recipe, please get in touch with Claire.
Don't be shy! PREFERENCE WILL BE GIVEN TO COURSE/WORKSHOP INSTRUCTORS.
All volunteers are welcome, and you don't have to be a gnarly mountaineer or need any special skills to participate. 
What you can expect so far .. (Update March 7th)
1. being part of a fun group, to spend a fun week in the mountain.
2. learn new skills, improve yours or share them with others.
3. climb great mountain.
4. pay a fee to support the cost of such camp (amount hasn't been decided yet, but will make sure to stay in the range of $300-$400).
You can sign up now to pre-book your spot, however a deposit will be ask to secure your spot around May when the details will be finalised. 
To confirm your spot, please follow these steps:
(1) Click "Join this Trip". You will be added to the "Request List"
(2) After the organizer approves your request (basically when we will have more details for the camp and before May), your name will be placed in the "Waiting List"
(3) Once on the Waiting List, you will have access to the Paypal button on the left hand side of the page (reads: Pay Now). Click on the button and complete your payment as prompted
(4) Once you payment is received by the trip organizer, you will be moved to the Confirmed List 
**Note that once you are on the Waiting List, it's a first-come-first-served basis. There may be more people on the Waiting List than can be accommodated at the camp, so be sure to complete your payment as soon as you receive a notification that you are on the Waiting List. I'll try to remove the Paypal button once we've reached the number of people we need [Number will be updated when decided], but if I don't get to it, please be advised that if there are already the number of people we need [Number will be updated when decided] on the confirmed list, you will not be accepted, but will be provided a refund. Please save us the trouble of refunding and don't sign up - sorry!
Other trips or events organized by this BCMC member

Call for organizers! Anyone welcome!

Though we'll mostly focus on building moderately large igloos, we'll also consider how to build emergency shelters

This "prep" session is ONLY for those confirmed to attend the Snow Shelter Workshop on March 3-4 weekend.