Name: Frosty Mountain double shot
Starts: Sun Mar 11, 2018
Meetup: North Grandview Hwy and Penticton Street at 6:30 AM
Return: Sun Mar 11, 2018
Registration opens: Fri Mar 09, 2018
Event category: Backcountry Skiing
Difficulty grade: B3 [?]
For members only: No
Screening used: Yes
Max participants: 8
Organizer: Paul Kubik

Profile info:
Have you a vehicle? What is its fuel efficiency? Can you get to the meeting spot TBD? How many passengers and gear can you take? If I have not skied with you before what recent difficult and physically demanding ski trips have you done?
You must login in order to sign up online for one of the BCMC Trips. If you don't have a BCMC membership account then please obtain one.  If you'd prefer to learn more before joining then please join as a 30-day Guest member.   Some trips are BCMC members only.
An ascent of the east peak of Frosty Mountain via the standard trail route. Descent down Frosty Creek. Partway down we will assess the weather, snow, avalanche conditions and group capability for a second climb up towards the north side of the west peak to gain a 900 meter run to Strike Lake. The full double shot is 21 km round trip and 1960 meters elevation gain. (The single shot is 1400 meters.) Despite the elevation gain, the days are getting longer and the pace will be moderate. It is not a race to the summit. Oriented for advanced intermediate or better skill level. Be prepared for adventure!
You need headlamp, spare batteries, skis, shovel, probe and beacon. In terms of skiing ability, you need to be competent skiing trees and big alpine slopes. You also need to be able to accommodate the physical demands of the trip.
Meet up time is 6:30 AM. ** Note: Time Change. Set clocks forward.** Meeting spot in Vancouver is the corner of North Grandview Highway and Penticton Street. It is about 3 blocks east of Renfrew Skytrain station. It's on the Central Valley Greenway bike route. It is the southwest corner of the huge Vancouver Technical Secondary School property below the playing field. There is lots of parking alongside the school property. See the maps in the Planning Forum (one from Google Maps, the other an annotated screenshot).
The BCMC has a driver compensation guideline, which we will be following https://bcmc.ca/club_driver_guidelines.php.
The round trip distance is 430 km from North Grandview Hwy and Penticton Street in Vancouver to Lightning Lake in Manning Park.

| | |
| --- | --- |
| One Passenger: | $ 64.50 (430 km x $ 0.15 = $64.50) |
| Two Passengers: | $ 64.50 each (Total: $129) |
| Three Passengers: | $ 43.00 each ($ 129 divided by 3 = $ 43.) |
| Four Passengers: | $ 32.25 each ($ 129 divided by 4 = $ 32.25.) |
Lightning Lake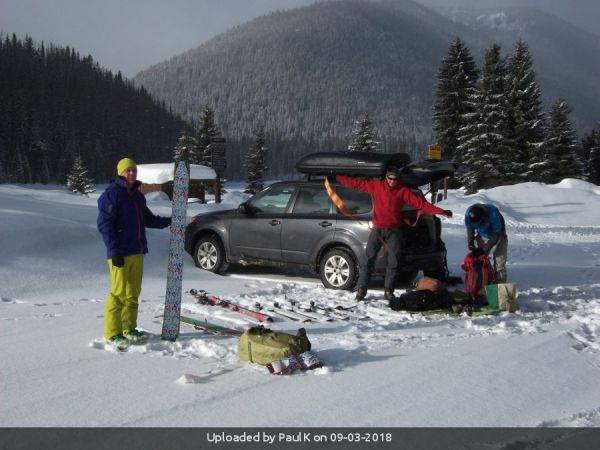 Other trips or events organized by this BCMC member

Ski ascent from near the end of Mamquam FSR

Ski touring off Lightning Lake chain in Manning Park

Ski touring off the Coq. Approach from Britton Creek R.A.