Name: Thar Peak - Coquihalla
Starts: Sat Apr 07, 2018
Meetup: 5:30am - North Grandview Hwy at Penticton St (see attached photo)
Return: Sat Apr 07, 2018
Registration opens: Wed Apr 04, 2018
Event category: Backcountry Skiing
Difficulty grade: B3 [?]
For members only: Yes
Screening used: Yes
Max participants: 7
Organizer: Seth Baker

Profile info:
How many people can you drive to Coquihalla Summit?
What's your level of avalanche training?
You must login in order to sign up online for one of the BCMC Trips. If you don't have a BCMC membership account then please obtain one.  If you'd prefer to learn more before joining then please join as a 30-day Guest member.   Some trips are BCMC members only.
Daytrip to Thar Peak near Coquihalla Summit.  Intermediate distance with some advanced skiing/riding.  We should get a couple laps in...approximately 10km and 1250m of elevation.
Meeting place/time is 5:30am at the corner of N Grandview Hwy and Penticton St.  Free parking is available with no threat of tickets.  A picture of the meeting spot is attached.
I have a car for myself plus three.  A second driver will be needed if we have 8 people total.
Meeting Place at N Grandview & Penticton St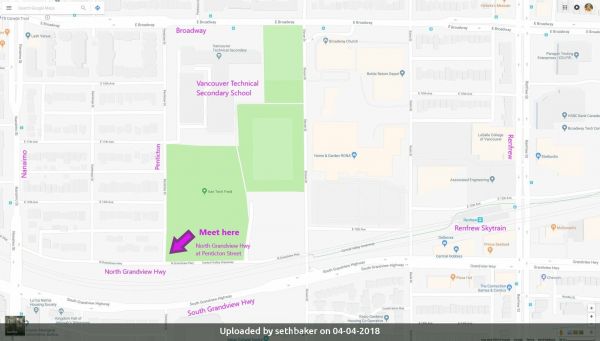 Other trips or events organized by this BCMC member

Brandywine from Callaghan

Laps at Needle Peak in the Coquihalla on Friday

Rainbow Mountain via Nineteen Mile Creek and Ski the North Glacier