Name: Capilano Mountain
Starts: Thu Apr 12, 2018
Meetup: St Davids church parking lot at Highway 1 and Taylor Way in West Vancouver at 7 AM
Return: Thu Apr 12, 2018
Registration opens: Mon Apr 09, 2018
Event category: Backcountry Skiing
Difficulty grade: B3 [?]
For members only: Yes
Screening used: No
Max participants: 8
Organizer: Paul Kubik

Profile info:
Are you a paid up club member, i.e. not a guest member? Have you got a rugged 4WD vehicle? How many passengers can you take?
You must login in order to sign up online for one of the BCMC Trips. If you don't have a BCMC membership account then please obtain one.  If you'd prefer to learn more before joining then please join as a 30-day Guest member.   Some trips are BCMC members only.
We'll drive up Furry Creek Main until we get stopped by snow. I have a key to the gate. Approach the summit from Downing Creek road. The road is in good shape for a couple of kilometers. After that, it's been a few years since I was up there. Hopefully, the road will be well snow covered. This is only for paid up BCMC members as that is a stipulation of our having the key to the gate. No guest members, sorry.
The usual avalanche rescue equipment is required.
The weather forecast for Thursday is currently for light snow showers and a FL of 800 to 1100 meters. There is supposed to be a lot of fresh snow on Wednesday above 1100 meters. Conditions could be good for skiing. If the weather forecast deteriorates significantly by warming up and raining the trip may be canceled. I'll confirm on Wednesday.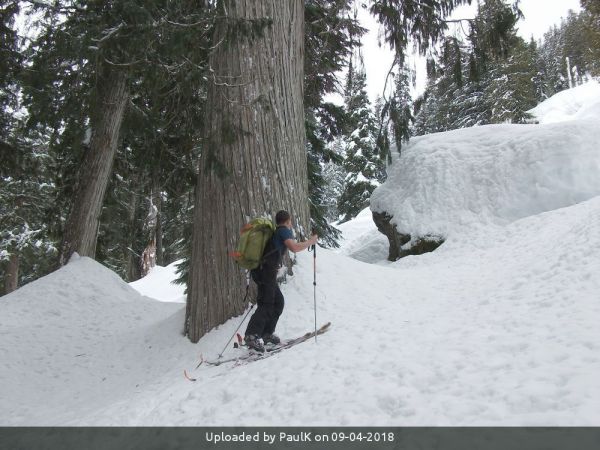 Other trips or events organized by this BCMC member

Approach from Conroy Creek.

Ski touring off the Coq. Approach via July Creek FSR.

Ski touring in the Coq. Henning will be the objective unless there's a big dump of fresh snow for Flatiron