Name: New Watersprite Lake Trail Upgrades - Boardwalk and Steps
Starts: Sat May 26, 2018
Meetup: St. Davids at 7:00am (As Usual)
Return: Sat May 26, 2018
Registration opens: Sat Apr 28, 2018
Event category: Trail Clearing
Difficulty grade: A1 [?]
For members only: No
Screening used: Yes
Max participants: -
Organizer: Chris Ludwig

Profile info:
Do you have a 4x4?
Do you have a chainsaw, experience and safety gear?
What trail building tools do you own?
Do you have safety gear?
You must login in order to sign up online for one of the BCMC Trips. If you don't have a BCMC membership account then please obtain one.  If you'd prefer to learn more before joining then please join as a 30-day Guest member.   Some trips are BCMC members only.
Oh yes, that time has at last come again!  It's the spring summer trail building season.
This will be a joint large-group/mob trip with Chasing Sunrise.  We will need as much muscle as possible.
Fat and out of shape after a winter of lethargy and excess?  Are you a newbie or beginner to the club?  Well this one is for you!
We are ready to put our plans into action to prepare the trail for the massive use expected this year.
On the itinerary:
1) The extension and upgrading of the existing Demon Creek Boardwalk at the .5 KM mark (yes, only 10 minutes from the parking lot).
2) The addition of up to three smaller new boardwalk segments
3) The Construction of two small bridges across two large water/mud filled cross-ditches just past Demon Creek Swamp
4) Removal of any deadfall and brush at the first 2 KM of trail
5) Inspection and repair of trail bridges and infrastructure after the winter season.
6) Construction of up to 100 new stairs and steps in the Connector Trail at KM 1.5
Volunteers will be performing the following task:
-A stop in Squamish to pick up building materials on the way (I will need one pickup truck that can carry all of the 8 foot 4x4 or 4x6 posts to the trailhead)
-Transporting lumber and building supplies (including rebar) from the trucks to the work site.
-Assistance in constructing, assembling and installing the boardwalks and stairs/steps
-Incidental clearing of vegetation from the trail.
-Repairing any damaged infrastructure
-Water management
-Enduring the endless berating and insults discharged from the trail crew chief with grace and poise.
I need two chainsaw operators available to cut the cedar rounds which will form the support for the boardwalk runners.
Recommended Safety Gear - Work Gloves, Eye Protection, Ear Protection (Extras available upon request for those who don't have them) 
This trip will be the first in a series of major trail upgrades and construction trips dedicated to BCMC maintained Trails.  Come join us and help make this worthy project come to life and subdue Demon Creek Swamp once and for all!
Section 57 authorization has been granted for this project.  Maximum participants Unlimited!
I have provided two GPX files for this trip (download them using the links on the bottom left of the page).  The first are the driving directions to the trailhead from Squamish, and the second is the GPX file for the trail itself.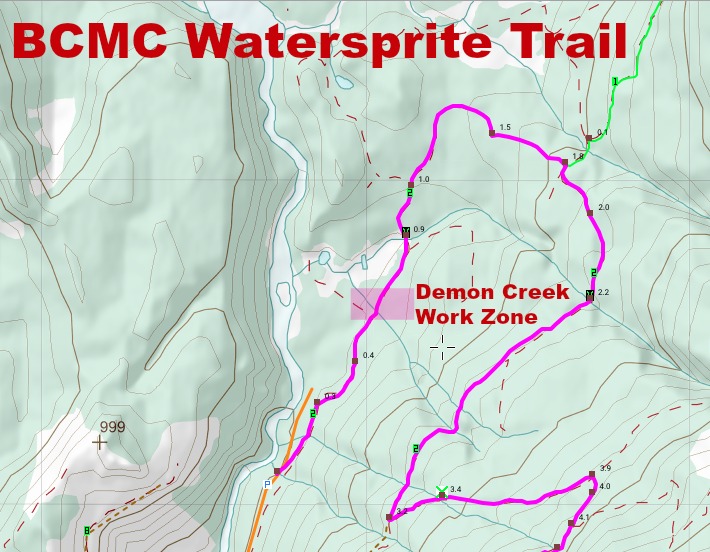 The Existing Demon Creek Boardwalk and work-zone (built by the crew and I in 2017):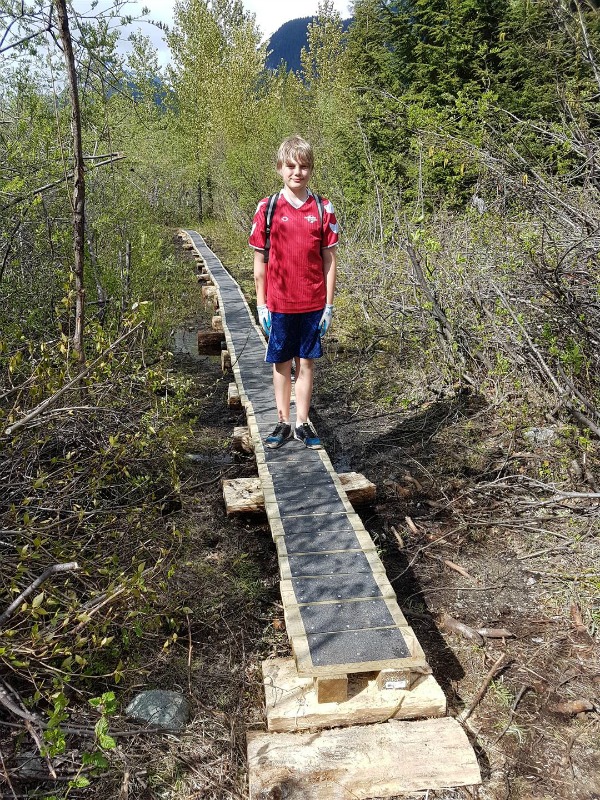 Other trips or events organized by this BCMC member

Watersprite Lake Trail Construction - Clearing, Bridges, Boulders and Boardwalk

Casual Watersprite Lake Trail Logistical Trip and Heli-lift of Supplies

BCMC Policy and Best Practices Committee