Name: Mount Baker south side
Starts: Sat May 19, 2018
Meetup: Ontario Street between 33rd and 37th Avenues at 5:30 AM
Return: Sat May 19, 2018
Registration opens: Wed May 16, 2018
Event category: Backcountry Skiing
Difficulty grade: C3 [?]
For members only: Yes
Screening used: No
Max participants: 8
Organizer: Paul Kubik

Profile info:
Have you a vehicle? What is its fuel efficiency? Can you get to the meeting spot TBD? How many passengers and gear can you take? If I have not skied with you before what recent difficult and physically demanding ski trips have you done? Have you got OOP medical insurance? Have you got a passport or EDL?
You must login in order to sign up online for one of the BCMC Trips. If you don't have a BCMC membership account then please obtain one.  If you'd prefer to learn more before joining then please join as a 30-day Guest member.   Some trips are BCMC members only.
One day ascent of Mount Baker on skis. The days are long and the pace will be moderate. It is not a race to the summit. Oriented for advanced or better skill level. You need headlamp, spare batteries, skis, ski crampons, shovel, probe and beacon. In terms of skiing ability, you need to be competent big alpine, glaciated slopes. You also need to be able to accommodate the physical demands of the trip.
*** You will need out of province medical insurance, passport or EDL. ***
Skiing up the south side of Mount Baker from Schrieber's Meadow. The road is reportedly driveable to within 1 mile of the TH as of May 14th. So we will meet in Vancouver. There's street parking on Ontario Street between 33rd and 37th Avenues next to Queen Elizabeth Park.
The BCMC has a driver compensation guideline, which we will be following https://bcmc.ca/club_driver_guidelines.php.
The round trip distance is 360 km from Vancouver to Park Butte TH.

| | |
| --- | --- |
| One Passenger: | $ 57.60 (360 km x $ 0.16 = $57.60) |
| Two Passengers: | $ 57.60 each (Total: $115.20) |
| Three Passengers: | $ 38.40 each ($ 115 divided by 3 = $ 38.40.) |
| Four Passengers: | $ 28.80 each ($ 115 divided by 4 = $ 28.80.) |
Approach from Schrieber's Meadow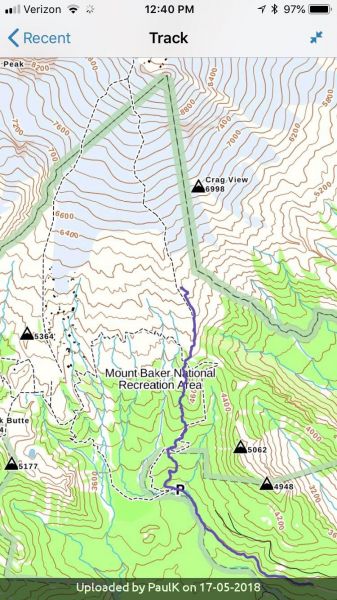 Other trips or events organized by this BCMC member

Fly in/out (no charge) hut-based work party 5 and 8 days

Clearing the short trail to Crooked Falls; protecting a signature Douglas fir tree

from the north side on skis from the North Tenas road