Name: New Watersprite Lake Trail Upgrades - Round 2
Starts: Sat Jun 16, 2018
Meetup: St. Davids at 7:00am (As Usual)
Return: Sat Jun 16, 2018
Registration opens: Wed May 30, 2018
Event category: Trail Clearing
Difficulty grade: A1 - C1 [?]
For members only: No
Screening used: Yes
Max participants: -
Organizer: Chris Ludwig

Profile info:
Do you have a 4x4?
What trail building tools do you own?
Do you have safety gear?
You must login in order to sign up online for one of the BCMC Trips. If you don't have a BCMC membership account then please obtain one.  If you'd prefer to learn more before joining then please join as a 30-day Guest member.   Some trips are BCMC members only.
After a highly successful trip last May where we upgraded the first 2.5 KM of the Watersprite Trail into a Parks Quality/Grade Trail, it is time to subjugate the remaining portions of the logging road-trail until the 7.2 KM mark in a similar quality-fashion.
We will once again be joined by a mob of volunteers from Chasing Sunrise:
On the itinerary (The Crew will be divided into two work parties divided into the following work zones).  Participants can choose their work zone based on fitness.  The upper work crew should be prepared for a longer day and late exit.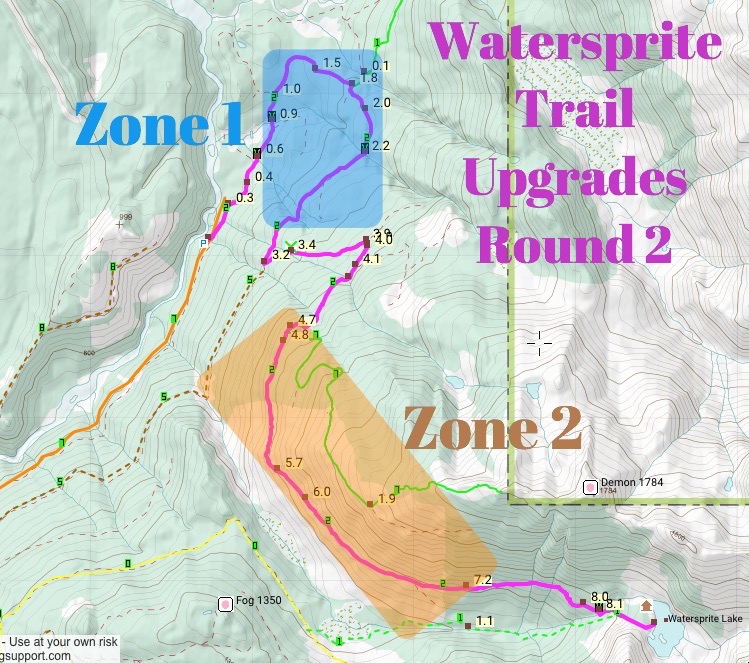 Lower Work Party (more casual):
1) Installation of one last short boardwalk at KM 1.4 (materials already on site)
2) Inserting additional round support in two places on original boardwalk
3) Clearing of brush and drainage work from KM 1 to KM 2.8
4) Stair Re-enforcement and adding gravel to cribbing when necessary
Upper Work Party (more strenuous):
1) Clearing all vegetation and widening trail from just before Demon Creek Waterfall (KM 4.5 to 7.2)
2) Clearing vegetation from S Line to S2 Spur if lower crew does not complete (KM 2.8 to 3.4)
Recommended Safety Gear - Work Gloves, Eye Protection, Ear Protection (Extras available upon request for those who don't have them) 
This trip will be the second in a series of major trail upgrades and construction trips dedicated to BCMC maintained Trails.  Come join us and help make this worthy project come to life and let's finish of all but the last 1.2 KM of trail.
Section 57 authorization has been granted for this project.  Maximum participants Unlimited!
It is my hope that this will be the second to last trip needed to complete the Watersprite Lake Trail (until our yearly fall brushing).
Other trips or events organized by this BCMC member

Watersprite Lake Trail Construction - Clearing, Bridges, Boulders and Boardwalk

Casual Watersprite Lake Trail Logistical Trip and Heli-lift of Supplies

BCMC Policy and Best Practices Committee