Name: Watersprite work party
Starts: Fri Jul 13, 2018
Meetup: St David's church parking lot in West Van at 7 AM
Return: Mon Jul 16, 2018
Registration opens: Sun Jun 17, 2018
Event category: Trail Clearing
Difficulty grade: B2 [?]
For members only: No
Screening used: Yes
Max participants: 20
Organizer: Paul Kubik

Profile info:
Are you able to lift rocks and place them in bucket?
Have you any experience with using techniques and tools such as:
... chainsaw, rock drill, winch and anchor systems, placing rock anchors?
Have you got a 4x4 vehicle? How many passengers can you take?
You must login in order to sign up online for one of the BCMC Trips. If you don't have a BCMC membership account then please obtain one.  If you'd prefer to learn more before joining then please join as a 30-day Guest member.   Some trips are BCMC members only.
Upper Watersprite Trail Multi-day helicopter work party (Joint operation with Government MFLNRO staff)
Tasks to Complete:
1) Assist MFNLRO Ministry Staff in assembling 10 tent platforms at Watersprite Lake Campsite
2) Assist MFNLRO Ministry Staff in emptying one of the outhouses (waste to be flown out)
3) Upgrade upper 1 KM of the Watersprite Trail with boardwalk and improved routing and trailbed (This party will be led by Chris Ludwig)
4) Trail Construction around lake from cabin to Hiker's Campsite (Led by Paul Kubik)
Upper boardwalk and trail optimization below the lake in the upper kilometer of trail. Trail construction around lake between hut and hiker's campsite. Based out of Watersprite Lake hut. No charge for the hut.
Fly in and out without charge and with the option for people to walk out, if they choose. The cost of the flights and cabin fees will be paid by the BCMC project.
Depending on successful completion of the construction projects we may be able to visit the site of the proposed Crawford Creek hut. We could be flexible and come out Sunday, Monday or Tuesday.
People will need to supply their own work gloves, eye protection, hearing protection and steel-toed boots (recommended), helmet (recommended).
Driver's fuel costs will be reimbursed by the BCMC project based on actual vehicle fuel consumption. Plus cost for any flat tires to be repaired. Plus cost of tires destroyed as a result of nail or other embedded object (pro-rated for wear). Driver's may charge passengers extra for wear and tear etc.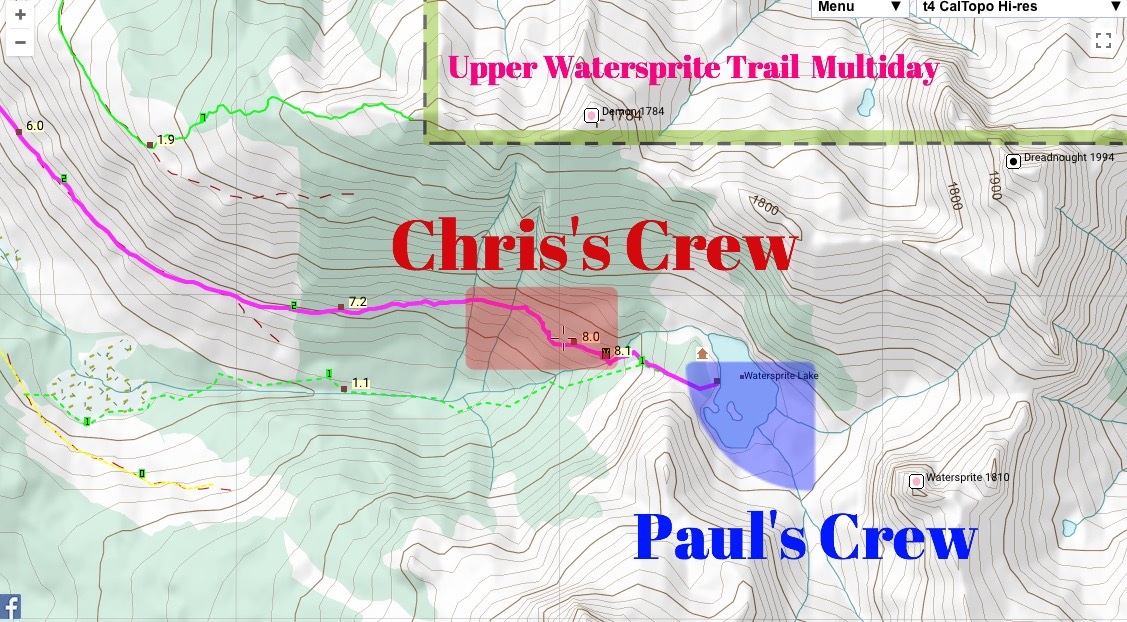 Other trips or events organized by this BCMC member

Ski ascent from near the end of Mamquam FSR

Ski touring off Lightning Lake chain in Manning Park

Ski touring off the Coq. Approach from Britton Creek R.A.