Name: Avalanche Awareness Social
Starts: Tue Nov 13, 2018
Meetup: ANZA Club @ 7:00pm
Return: Tue Nov 13, 2018
Registration opens: Mon Oct 15, 2018
Event category: Social
Difficulty grade: A1 [?]
For members only: No
Screening used: No
Max participants: -
Organizer: Polina Andreychenko

Profile info:
You must login in order to sign up online for one of the BCMC Trips. If you don't have a BCMC membership account then please obtain one.  If you'd prefer to learn more before joining then please join as a 30-day Guest member.   Some trips are BCMC members only.
Tuesday November 13th BCMC Social Event 
The BCMC AGM
by the BCMC Executive
followed by...
Avalanche Awareness Night
by Abby Cooper, Phil Alma, Polina Andreychenko
Doors @7:00 PM ANZA Club
Social Event @7:30 PM


The night will begin with the annual BCMC Annual General Meeting, followed by a talk from Abby Cooper, an Avalanche Ambassador for Avalanche Canada. Abby will present on the Mt. Harvey incident that occurred on April 8, 2017. Afterwards, there will be trivia, prizes, and beer!

"The Mt. Harvey case study will focus on learning outcomes that occurred from a tragedy in familiar terrain. Five snowshoers died that day. We hope to help educate more "summer" recreationists, or new backcountry enthusiasts, about the winter backcountry hazards so this scenario does not occur in the future." 
The Social will take place at the Vancouver ANZA Club main floor (corner of 8th Ave and Ontario) on Tuesday, November 13th. The entrance door will open at 7 pm and we will begin the evening at 7:30 PM with the AGM and an Update from the Executive.  Please note: you must be 19+ years old to attend and may be asked to sign-in at the door to ensure we don't exceed 117 people in the hall. Once at capacity we will be forced to turn attendees away. Feel free to grab a drink at the Bar before the social starts.
Visit us on Facebook at: https://www.facebook.com/BCMountaineeringClub
or on Twitter at: https://twitter.com/BCMountainClub
or on Instagram at: https://www.instagram.com/BCMountaineeringClub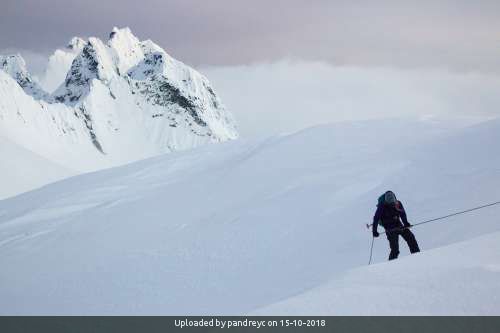 Other trips or events organized by this BCMC member

BCMC Social presentation open to both members and non-members. ANZA club, main floor. Beer served.

BCMC Social presentation open to both members and non-members. ANZA club, main floor. Beer served.

BBQ and volunteer appreciation. Let's celebrate our volunteers that make up the heart of the BCMC!