Name: Here We Go Again
Starts: Sat Dec 22, 2018
Meetup: 5:25am Info in Planning Forum
Return: Sat Dec 22, 2018
Registration opens: Tue Dec 18, 2018
Event category: Backcountry Skiing
Difficulty grade: B-C2 [?]
For members only: Yes
Screening used: Yes
Max participants: 8
Organizer: Cliff Eschner

Profile info:
1. Can you drive? Or do you prefer to ride with someone? What city are you coming from?
2. Avi training? How practiced/capable are you at rescuing someone?
3. How many years downhill skiing? Level of ability? How many years backcountry skiing?
You must login in order to sign up online for one of the BCMC Trips. If you don't have a BCMC membership account then please obtain one.  If you'd prefer to learn more before joining then please join as a 30-day Guest member.   Some trips are BCMC members only.
Here We Go Again
Ski tour to Mt Kelly in Manning Park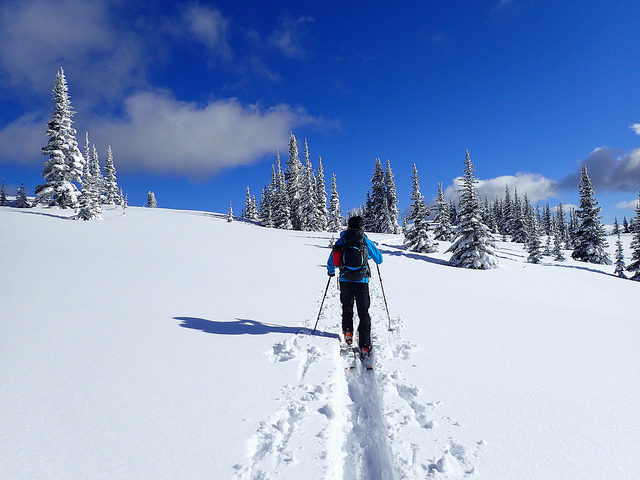 Ski touring near Mt Kelly. Note: actual weather may not be as depicted in the photo :)
See Baldwin's Guide, 3rd Edition, page 207.
This trip is intended for members who are new to the BCMC and/or new-ish to backcountry skiing. You must be able to downhill ski intermediate or above. Faced with trees or poor conditions you should be able to use survival ski techniques. You must have experience with your backcountry equipment. You must have avi training. This must Not be your first time touring in the backcountry. 
*Expect a long day and skiing out after dark*

We hope you enjoy avoiding trees on the ski out :) Not too difficult for an intermediate skier, but they still jump out at you once in a while!

We will use the Trip Planning forum for additional information and updates.
For last minute questions contact by phone.
Gear required:  your own 10 essentials.
https://www.mountaineers.org/blog/what-are-the-ten-essentials
Avi gear (Digital Transceiver, Probe, Shovel).
Headlamp suitable for skiing at night.
We wear helmets on the downhill.
AT ski equipment.
Treats to share :) 
Organizer will bring GPS with tracks; Map and compass; Personal Locator Beacon; Emergency bivy; Tarp and 15m cord; Bone saw; Camera; First aid kit.
Recommended carpooling cost:  approx. $25 per passenger; please arrange with driver; bring funds.
Access to trailhead in Manning Park adjacent to Hwy 3.
Other trips or events organized by this BCMC member

Ski Tour to Summit Mt Price!

Ski Tour to Summit Mt Rohr!

Ski Tour to Cloudburst Mountain