Name: Thar Peak - Coquihalla
Starts: Sat Mar 16, 2019
Meetup: 5:30am - North Grandview Hwy at Penticton St (see attached photo)
Return: Sat Mar 16, 2019
Registration opens: Wed Mar 13, 2019
Event category: Backcountry Skiing
Difficulty grade: B3 [?]
For members only: Yes
Screening used: Yes
Max participants: 6
Organizer: Anton Perepelytsia

Profile info:
1. Do you have AST-1? When did you take it? When did you last practise it?
2. What is your level of skiing?
3. Do you have a car with winter tires? How many passengers can you take?
You must login in order to sign up online for one of the BCMC Trips. If you don't have a BCMC membership account then please obtain one.  If you'd prefer to learn more before joining then please join as a 30-day Guest member.   Some trips are BCMC members only.
This is an intermediate to advanced day trip from Vancouver to Thar Peak. 
Participants must have AST-1 or better as we will be exposed to avalanche terrain.  Good route finding and avalanche assessment is a requirement for all participants. Do not join the group if you're not comfortable with winter driving conditions in the Coquihalla or if you are not prepared to encounter some avalanche terrain.  The ski down will require an intermediate to advanced (blue/black diamond) skill set with the ability to handle terrain that has variable snow conditions. In icy to hard pack conditions, it may even require advanced to expert skiing ability.  
Route description John Baldwin book, page 200. Thar Peak offers a 600m run down the SE ridge.
If conditions are not ideal, we can make the trip up to nearby Zoa Peak as an alternative.
Meeting place/time is 5:30am at the corner of N Grandview Hwy and Penticton St.  Free parking is available with no threat of tickets.  A picture of the meeting spot is attached.
I have a car for myself plus three (2 comfortably).  A second driver will be needed if we have 6 people total.
Meeting Place at N Grandview & Penticton St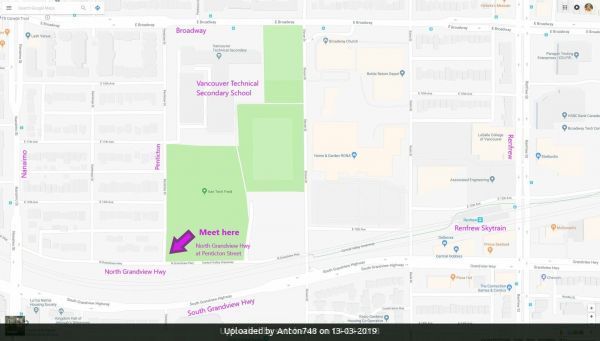 Other trips or events organized by this BCMC member

Let's go for backcountry skiing at Needle Peak

Zoa Peak backcountry skiing