Name: Kanchenjunga Circuit Trek, Nepal
Starts: Thu Apr 02, 2020
Meetup: Would be great to fly together from Vancouver. Up for discussion.
Return: Mon Apr 27, 2020
Registration opens: Mon Mar 25, 2019
Event category: Guided Instruction
Difficulty grade: C2 [?]
For members only: No
Screening used: Yes
Max participants: 8
Organizer: John Gill

Profile info:
- Do you have previous trekking experience?
- Have you been to altitudes of 5,000m before? Any issues?
- Have you been to Nepal before?
You must login in order to sign up online for one of the BCMC Trips. If you don't have a BCMC membership account then please obtain one.  If you'd prefer to learn more before joining then please join as a 30-day Guest member.   Some trips are BCMC members only.
The Kanchenjunga circuit trek is an incredible 3 week trek in a remote corner of Nepal. The hiking is strenuous but very rewarding. The area is rustic and largely untouched by tourism - quite different from the Everest/Annapurna region.
This trek accompanies the Canadian Kanchenjunga 2020 expedition (http://kanchenjunga.outdoor-explore.com/) team on their approach to base camp. Climbers and trekkers will travel together for the first 2 weeks through the acclimatization process, then split off when the climbers head to base camp. The route goes to the North Base Camp (Approx 5,100m), across a high pass (again above 5,000m), then to the South Base Camp (stopping at the glacier).
The trek itinerary can be found here (in the trekking column): https://docs.google.com/spreadsheets/d/1QMxN7I_v2Fj2pldZnwyl8gqiEEqdqAQsBgWfxdZdHaY/edit?usp=sharing
Cost varies depending on the number of trekkers joining. Approx cost is $3,000 USD per trekker for 3.5 weeks in Nepal. This includes a Sherpa guide, porters, accommodation and food while on trek and in Kathmandu, insurance for local staff. This IS a supported trek with local guides and staff. Nepali guides are mandatory in the Kanchenjunga conservation area.
Additional costs to consider: approx $1,200 CAD for flights, plus travel insurance, tipping for guide/porters, spending money, equipment etc.
Accommodation while on trek will be a mix of camping and tea houses. Most villages have tea houses (although some are very basic). The size of the team and the number of beds in each village will determine whether we camp or tea house.
I will be in the expedition team, so will not be present in the last week of the trek. For this reason, you should have previous trekking experience and be comfortable with trekking in a remote part of Nepal. Previous trips to Nepal is a big asset! I will be looking to appoint a team leader for the trek, although you will have an experienced local guide.
Please get in touch if you are interested. I have lots more information I can provide. johngill2527@gmail.com
Thanks, John
Kanchenjunga North Base Camp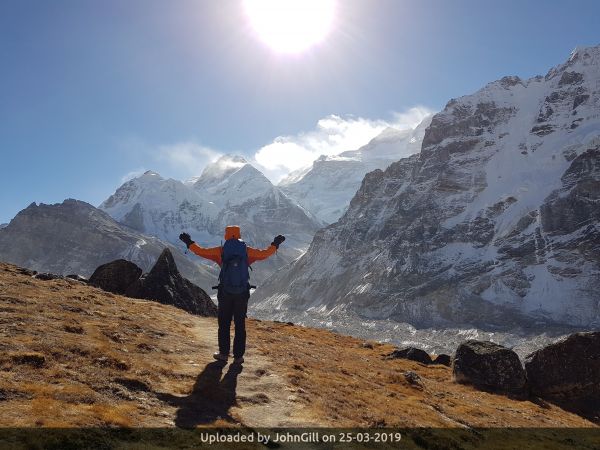 Other trips or events organized by this BCMC member

Canadian Kanchenjunga SW Face expedition, Spring 2020

3 weeks trekking in Nepal in the Everest area

Ama Dablam Climb (6,854m) - Nepal