Name: Mount Rainier 3 days Muir climb
Starts: Wed May 22, 2019
Meetup: Chevron, Boundary May 22th 4:00am
Return: Fri May 24, 2019
Registration opens: Fri Apr 19, 2019
Event category: Mountaineering
Difficulty grade: C4 [?]
For members only: Yes
Screening used: Yes
Max participants: 2
Organizer: Philippe Lambrette

Profile info:
1. Your most(s) recent(s) similar climbs recently done?
2. Can you provide a ride for others?
3. Will have all the gears including tent and food?
4. Recent crevasses rescue training/skills?
5. Can carry a heavy pack (50lb) up to 10h-12h?
6. If I don't know you, maybe tell me briefly a bit more about yourself.
You must login in order to sign up online for one of the BCMC Trips. If you don't have a BCMC membership account then please obtain one.  If you'd prefer to learn more before joining then please join as a 30-day Guest member.   Some trips are BCMC members only.
First, a few words about me as a climber: 
I'm a enthusiast climber who love to be up on the mountain (small and big). I have been hiking a bit everywhere  in the North Cascade and in the Alps. Here's my most recent successful climbs :
- Eldorado peak
- Mount Adams
- Mount Temple
- Mount Baker
- Solo climbed the Aconcagua (Argentina - Alpine style from base camp)
-etc...
First aid level 1
Route: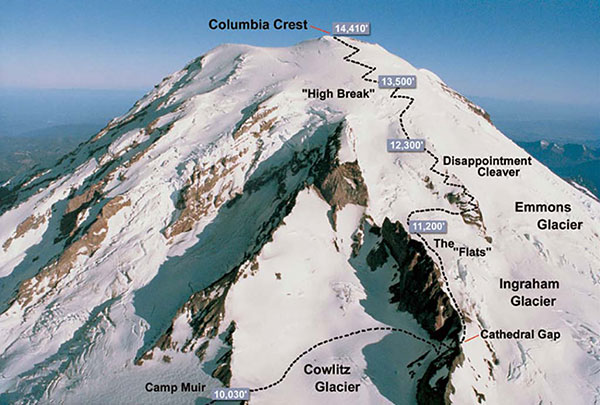 Gears list : https://www.rmiguides.com/mt-rainier/4-day-summit-climb/equipment
This is a long and physically hard climb. You should have a good experience at high altitude, glacier travel, backpacking, etc... before you apply to this trip.
Consider this trip as an expedition. Expect high altitude extreme condition. Early season, icy condition could happen on the way up/down, so you should be prepared for that (you should know how to belay). A double boots is usually the way to go in May/June. The summit push will happen only with perfect weather.
Mt Baker, Mt Adams or something similar could be a good introduction.
Trip Profile
DAY

ROUTE SEGMENT

ELEVATION
CHANGE(FT.)

HOURS

MILES

 

1
Paradise to Camp Muir
4,788 ↑
4-6
4.5
 
2
Camp Muir to Ingraham Flats
912 ↑
1
1
 
3
Ingraham Flats to Columbia Crest (Summit)
3,310 ↑
4-6
2
 
 
Columbia Crest to Paradise
9,010 ↓
8-10
8.5
 
You will need a travel insurance and have no problem to cross the US border.
Details to follow in the planning forum.
Other trips or events organized by this BCMC member



Attempt to summit The Copilot via NE gully