Name: Tszil & Taylor
Starts: Sun May 19, 2019
Meetup:
Return: Sun May 19, 2019
Registration opens: Tue May 14, 2019
Event category: Mountaineering
Difficulty grade: C3 [?]
For members only: Yes
Screening used: Yes
Max participants: 9
Organizer: Jonathan Colyer

Profile info:
Please describe your recent experience with glacier travel, avalanche safety and crevasse rescue
Are you willing and able to drive a vehicle there?
You must login in order to sign up online for one of the BCMC Trips. If you don't have a BCMC membership account then please obtain one.  If you'd prefer to learn more before joining then please join as a 30-day Guest member.   Some trips are BCMC members only.
The plan is to head up early on Sunday morning and park at Joffre Lakes trailhead (at approximately 7am). Then we'll hike up the Tszil glacier (to get some glacier travel in) and head up to Tszil mountain and over the col to Taylor before descending back to the carpark (either from the Tszil-Taylor col, or down the ascent route).
There are no steep slopes on this route, and the Tszil glacier is a relatively uncrevassed glacier.

You must have recent experience in:
- Roped glacier travel
- Crevasse rescue
- Avalanche safety training

Gear required:
- Crampons and ice axe, probably snowshoes
- Rope (may be able to share)
- Harness, helmet
- Crevasse rescue equipment (can pare down as the route is practically uncrevassed)
- Avalanche equipment (to be discussed)
- Headlamp/torch
- 10 essentials, other gear

Emergency Info: 
Make sure your Emergency contact is up to date. You will need this to attend the trip.
Intended route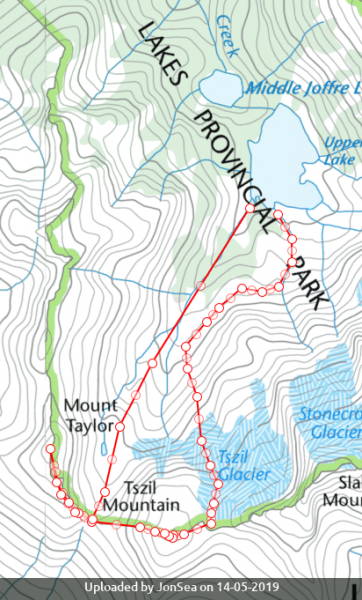 Other trips or events organized by this BCMC member

Mt Rexford and Nesakwatch Spire Mission

Attempt Rainier while the good weather is forecast to last

Glacier Peak long weekend trip