Name: Underhill hike and kayak
Starts: Sun Jun 02, 2019
Meetup: Deep Cove Kayak at 9:30am
Return: Sun Jun 02, 2019
Registration opens: Sat May 25, 2019
Event category: Other
Difficulty grade: B2 [?]
For members only: No
Screening used: Yes
Max participants: 6
Organizer: Paul Schrimpf

Profile info:
How much experience do you have kayaking? Are you comfortable with wet exits? Are you confident in your ability to perform an assisted kayak rescue? A self rescue? (These are not strict requirements, but I may cap the trip at 4 if no one else has rescue experience).
What type of boat do you have or are you renting?
If there's time, would you be interested in practicing kayak rescues at the end of the trip?
You must login in order to sign up online for one of the BCMC Trips. If you don't have a BCMC membership account then please obtain one.  If you'd prefer to learn more before joining then please join as a 30-day Guest member.   Some trips are BCMC members only.
We'll kayak from Deep Cove to Thwatyes Landing (about 2 hours each way), and then hike up Mt Underhill.
The hike involves bushwhacking up Holmden Creek to a steep trail leading to the top of Mt. Underhill. The hike is short with only 400m elevation gain, but will take 1-2 hours round trip with the bushwhacking.
This trip should not be your first time paddling a boat, but you need not be very experienced. The paddling portion of this trip is fairly straightforward.  Indian Arm is generally not too windy and doesn't have any strong currents. Most of the paddle is close to shore, but there are lengthy stretches of shore without any obvious landings.
Kayaks can be rented from Deep Cove Kayak. The earliest available rentals on the website are at 10am. Use the forum to coordinate sharing double kayaks if you want.
Parking in Deep Cove tends to be crowded. Please ensure you arrive early enough to have your boat in the water and ready to go at 10am.
Required gear: kayak with essential equipment (paddle, pump or bailer, throw line, pfd), clothing in case you swim (wetsuit, drysuit, or at least extra warm clothes in a dry bag), water, snacks, footwear and clothes for hiking, headlamp (preferably waterproof).
If anyone needs some gear, I have extra drybags and an extra paddle jacket and wetsuit.
approaching Thwatyes Landing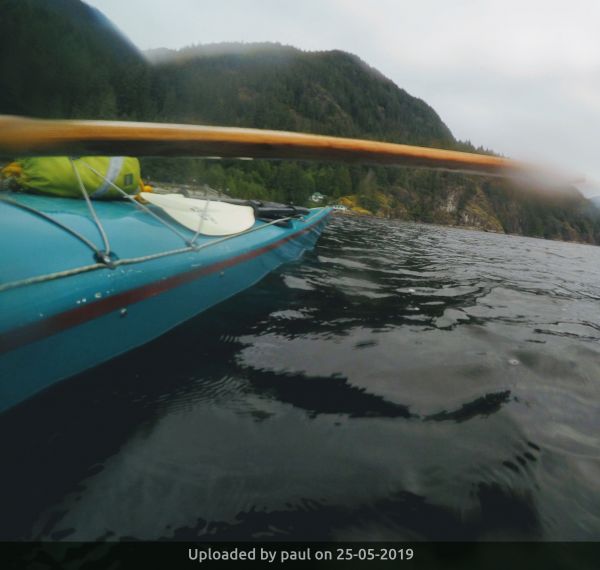 Other trips or events organized by this BCMC member

ski tour around cypress ski area

an exploratory trip toward Mt Taylor

ascend Rainbow Mt via its SE Ridge