Name: Wedge Mountain via Northeast Arête
Starts: Sat Jun 22, 2019
Meetup: St. David's Church
Return: Sun Jun 23, 2019
Registration opens: Sat Jun 15, 2019
Event category: Mountaineering
Difficulty grade: C5 [?]
For members only: Yes
Screening used: Yes
Max participants: 12
Organizer: Martin Hostinsky

Profile info:
Do you have a rope?
Do you need a ride or can you offer one?
You must login in order to sign up online for one of the BCMC Trips. If you don't have a BCMC membership account then please obtain one.  If you'd prefer to learn more before joining then please join as a 30-day Guest member.   Some trips are BCMC members only.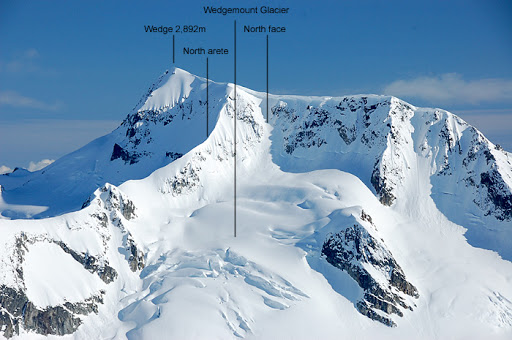 Preference given to club members who have completed Introduction to Mountaineering sessions (2019). Rope teams of 3 preferred.
Past training in glacier travel on a rope team and crevasse rescue required.
This trip will only go ahead with good weather conditions.
We will meet on Saturday morning and take the trail to Wedgemount Lake. We will aim to camp at the glacier. 
If we have time on Saturday afternoon we could set up our ropes and quickly go over our glacier travel and crevasse rescue skills.
Alpine start on Sunday morning via Northeast Arête. After summiting we'll return to the lake, pack up, and return to our vehicles.
Also, we can discuss and plan for a different location if the conditions are not favourable and organize shared equipment in the forum.
The Alpine Select book describes the Wedge Mountain Northeast Arete route as "A beautiful classic mountaineering in British Columbia. Mostly easy-angled, but very exposed, especially in the upper section where the arete peters out into a steepening open face shortly before the summit ridge."
Gear required:
Overnight camping gear and tent.
Ice axe, helmet, rope, harness, crampons and gear (such as picket and ice screw) for glacier travel 
10 essentials
Recommended carpooling cost:  please arrange with driver; bring funds.
Emergency Info:  please make sure your Emergency Contact info has been added to your web-account profile.  You can do this by logging into the bcmc.ca website, click on: My Account (top of page)... then click on Edit Emergency Contact (top-left column).  Please re-enter your password to complete the process.  Your emergency contact info is stored *privately* and only made available to those organizing trips *you* choose to attend.
Medical Info:  any info that should be shared with the organizer(s), please send an email and/or phone ASAP.  For example, if you are very allergic to bee/wasp bites, or you are taking medication that could be vital information to First Aid Responders.  Anything you choose to share will remain private.
Cancellation:  We'll check the weather forecast for where we're going the evening before we meet.  If the weather forecast does NOT appear to be adequate for a safe outing then the trip will be cancelled and everyone will be notified by email.
Other trips or events organized by this BCMC member

We will each try free rappelling and then coming back up via Texas prussik

Practice setting up crevasse rescue hauls on Seymour