Name: Decker Mtn
Starts: Sun Jan 12, 2020
Meetup: St David's Church, 5:50AM
Return: Sun Jan 12, 2020
Registration opens: Wed Jan 08, 2020
Event category: Backcountry Skiing
Difficulty grade: B3 [?]
For members only: No
Screening used: No
Max participants: -
Organizer: Bill Maurer

Profile info:
You must login in order to sign up online for one of the BCMC Trips. If you don't have a BCMC membership account then please obtain one.  If you'd prefer to learn more before joining then please join as a 30-day Guest member.   Some trips are BCMC members only.
Day ski trip to Decker mountain from base 2 at Blackcomb.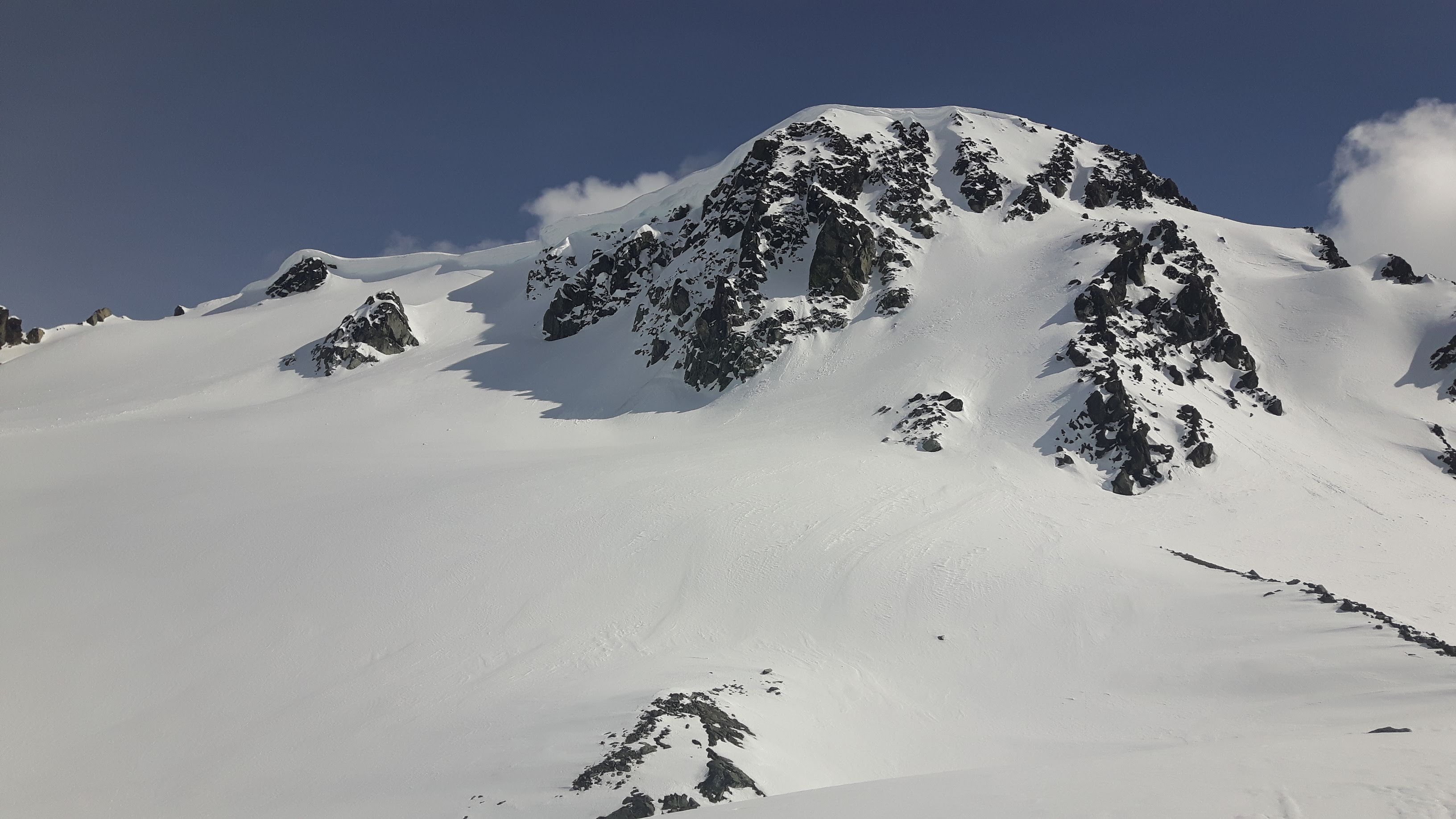 We'll be ascending via Sunset Blvd to the base of 7th Heaven and heading into the backcountry from that access. From Decker we'll return via Corona Bowl and Blackcomb glacier.
This trip requires intermediate skiing ability. Participants should bring backcountry ski gear, avi gear, and headlamps (w spare batteries). We won't be using the lifts.
| | |
| --- | --- |
| Distance: | 22.4 km |
| Elevation Gain: | 2000 m |
| Summit: | 2421 m |
| Estimated Time: | 8 hrs |
I have posted a GPS track of our planned route.
I'll be posting final trip conditions and info within 24 hours of the trip start. We will be organizing rides at St Davids. If you have special ride requirements please post them in the Planning Forum.
Please ensure the phone number on your BCMC profile matches the number of the cell phone you will be carrying with you.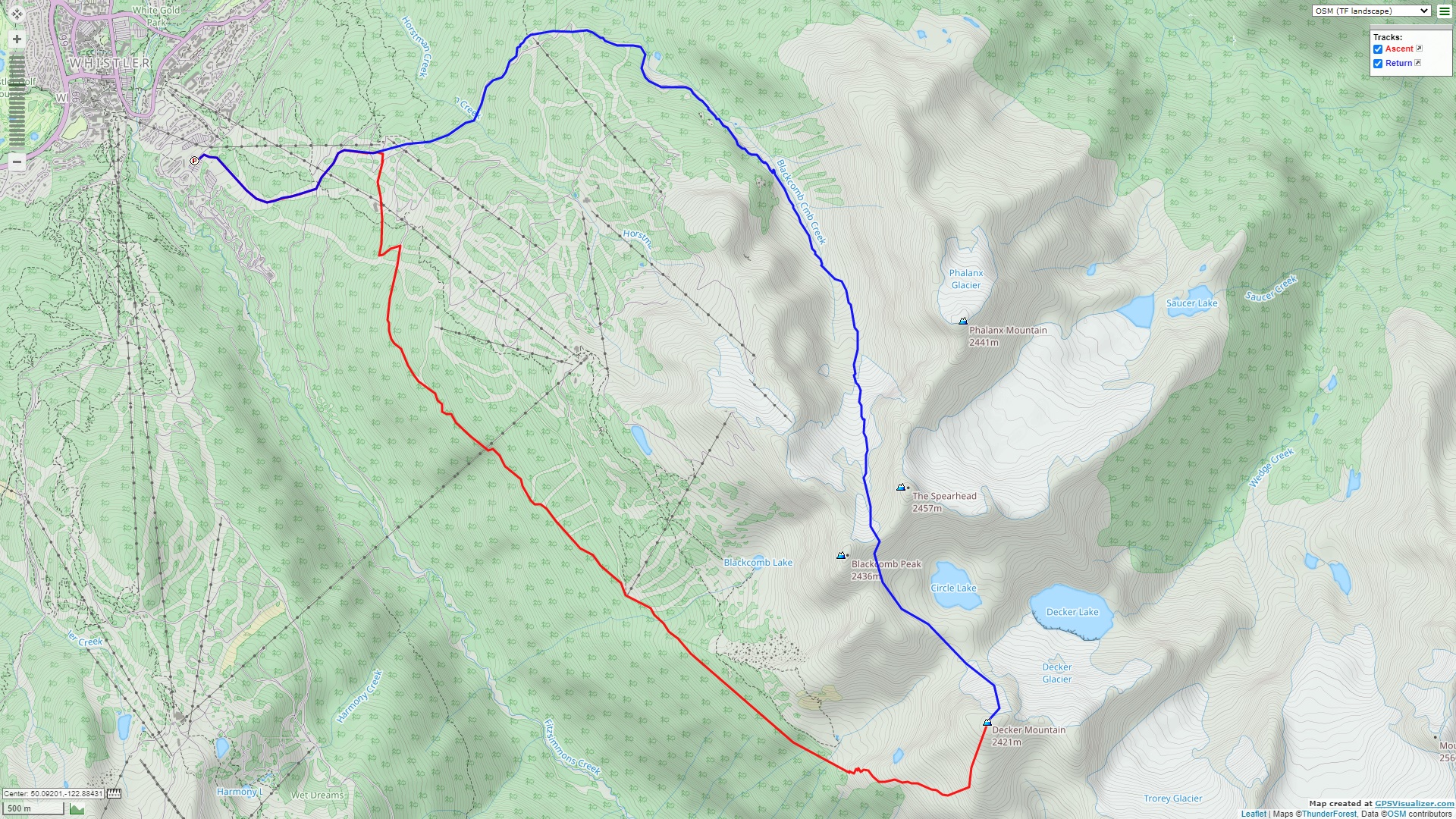 Legend: Red - ascent, Blue - return, Green - cra boundary
This is the first step in re-establishing non-lift (non motorized) access to the NE side of the Spearhead. Peaks in this area include Decker, Tremor, Trorey, Pattison, Phalanx, Blackcomb, and Spearhead. These are all accessible as day trips from Base 2 as well as the entire Spearhead Traverse. We have been working with the resort's leadership group for 12 months and are expecting a detailed and fair Uphill Travel Policy which reflects the requirements of the Blackcomb MDA to be released soon.
We are working collaboratively with Whistler Blackcomb to fine tune the detailed location, timing, and staging of the access corridor to Garibaldi Park on the NE side of the Spearhead range. The resort will be providing a ski patrol escort from base 2 to the edge of the controlled recreation area in the vicinity of the base of the 7th Heaven lift. Novices with intermediate skiing ability are welcome.
Here is a link to the Blackcomb Access Corridor issue documentation showing some of the interactions which have occurred with the resorts directors and government as well as important documents. 
Here's a link to the Blackcomb CRA boundary. 
Other trips or events organized by this BCMC member

Early season trip to Sproatt and possibly Tonic

Day trip to the peaks of Runner and Elsay in Seymour area

Climb Rainbow Mountain via Hanging Lake