Name: Decker Mtn - Sea to Sky group
Starts: Sat Feb 08, 2020
Meetup: Whistler Lot 7 - 7:00AM
Return: Sat Feb 08, 2020
Registration opens: Wed Feb 05, 2020
Event category: Backcountry Skiing
Difficulty grade: B3 [?]
For members only: Yes
Screening used: Yes
Max participants: 10
Organizer: Wayne Pattern

Profile info:
You must login in order to sign up online for one of the BCMC Trips. If you don't have a BCMC membership account then please obtain one.  If you'd prefer to learn more before joining then please join as a 30-day Guest member.   Some trips are BCMC members only.
This is the Sea to Sky group of the Decker trip for people coming from Squamish, Whistler, and Pemberton
Day ski trip to Decker mountain from base 2 at Blackcomb.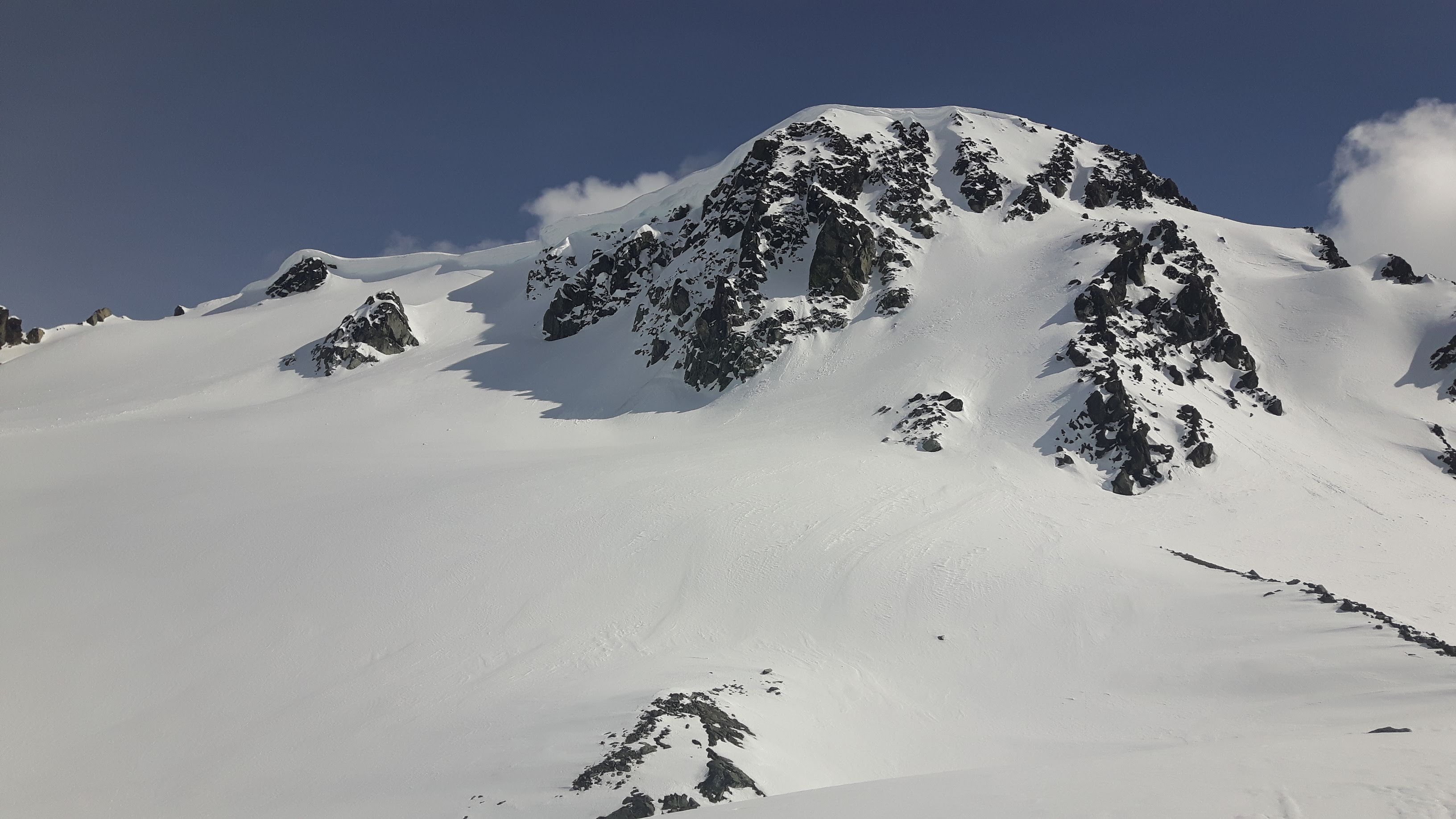 We'll be ascending via Sunset Blvd to the base of 7th Heaven and heading into the backcountry from that access. From Decker we'll return via Corona Bowl and Blackcomb glacier.
Participants must bring backcountry ski gear, avi gear, and headlamps (w spare batteries). Ski crampons are always a good idea on this type of trip. It may be rescheduled for Sunday if the forecast for Saturday is poor. That decision will be made early Friday evening. Check back here to confirm. 
This is a fast paced day trip requiring a high level of fitness and is not suitable as a first trip with the club. You must be able to independently navigate in the mountains and be at least an intermediate level skier. I have posted a GPS track of our planned route.
Note to trip organizers: If you are interested in accessing the Spearhead like this but prefer a different pace or destination then feel free to post a separate trip on the schedule on the same day. We would ski through the corridor together leaving lot 7 at 7:15 and would separate into our respective groups at the ski area boundary.
| | |
| --- | --- |
| Distance: | 22.4 km |
| Elevation Gain: | 2000 m |
| Summit: | 2421 m |
| Estimated Time: | 8 hrs |
I have posted a GPS track of our planned route.
I'll be posting final trip conditions and info within 24 hours of the trip start. We will be organizing rides at St Davids. If you have special ride requirements please post them in the Planning Forum.
Please ensure the phone number on your BCMC profile matches the number of the cell phone you will be carrying with you.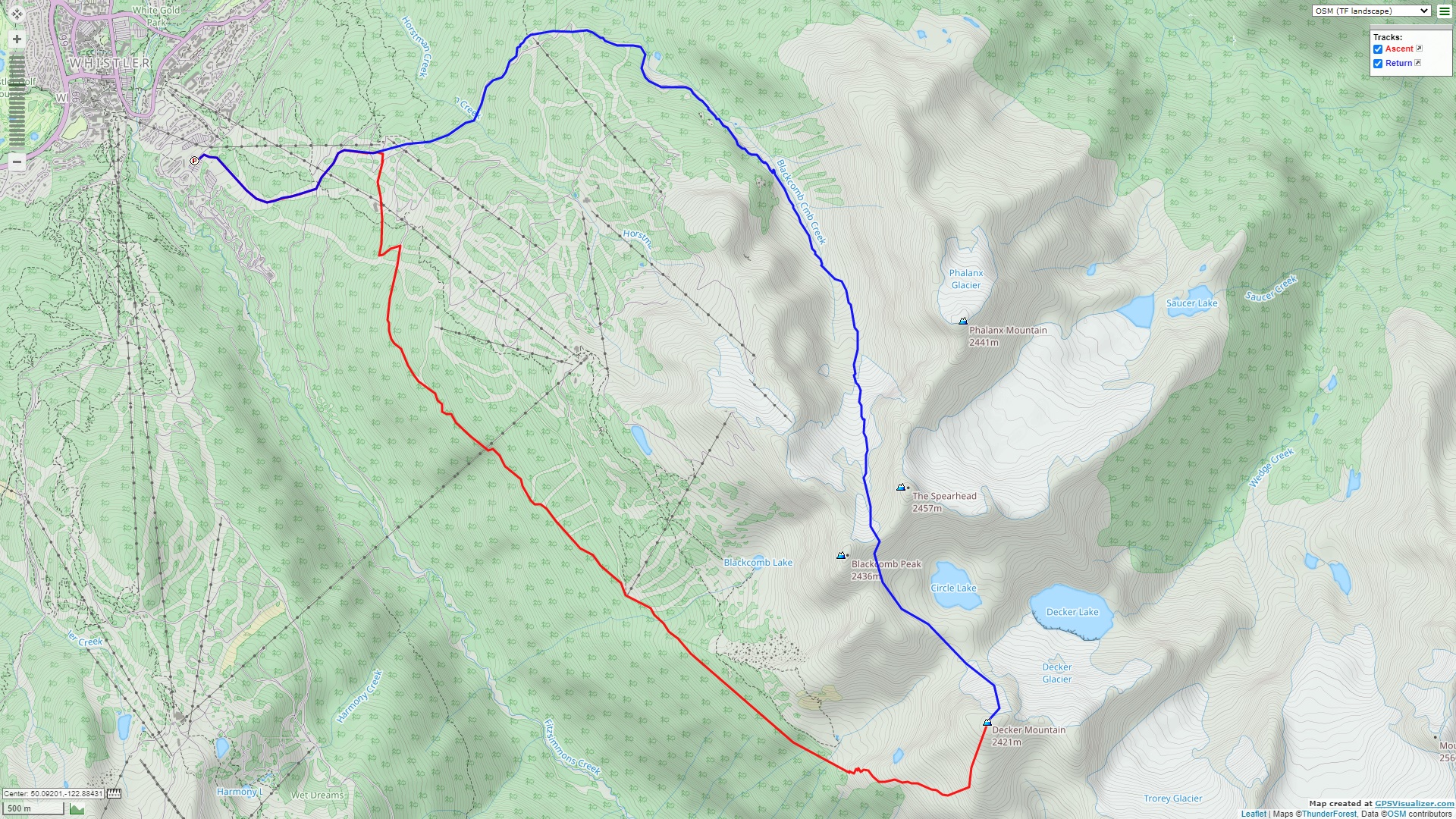 Legend: Red - ascent, Blue - return, Green - cra boundary
This is the second trip of the season into the Spearhead from Blackcomb Base 2 so no tickets required. We are working collaboratively with WB on establishing this corridor and will have a ski patrol escort to the ski area boundary.
Other trips or events organized by this BCMC member

Climb Mt Kilimanjaro via The Northern Route

Online info session for members wanting to organize club trips

Big Day to the Summit of Mamquam Mountain